By

JHY DESIGN
8"x6"x13" Square Freestanding Table Fireplace with Two Side Glass
Regular price
Sale price
$69.99
Unit price
per
Couldn't load pickup availability
𝐄𝐱𝐩𝐞𝐜𝐭𝐞𝐝 𝐝𝐞𝐥𝐢𝐯𝐞𝐫𝐲: 𝟓-𝟕 𝐝𝐚𝐲𝐬 𝐟𝐫𝐨𝐦 𝐨𝐫𝐝𝐞𝐫 𝐜𝐨𝐧𝐟𝐢𝐫𝐦𝐚𝐭𝐢𝐨𝐧 𝐝𝐚𝐭𝐞
🚚 𝙁𝙧𝙚𝙚 𝙨𝙝𝙞𝙥𝙥𝙞𝙣𝙜 𝙤𝙣 𝙤𝙧𝙙𝙚𝙧𝙨 𝙤𝙫𝙚𝙧 59𝙐𝙎𝘿
---
Availability:
20 in stock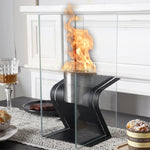 Regular price
Sale price
$69.99
Black
Elevating Fireplace Essence: JHY DESIGN's 8"x6"x13" -Burning Bio Ethanol Ventless Fireplace
*Material: Metal, stainless steel &Tempered glass

*Product Size: 8"*6"*13"

*Color: Black sand color metal,black stainless steel, clear tempered glass

*Metal Structure: Strong and durable

A SIMPLE AND ELEGANT APPEARANCE FIRE PIT , with no ash or smoke, you can put it anywhere, perfect for your patio, living room, dinning room etc.

CLASSICAL AND DECENT DECORATIVE Crafted of metal, stainless steel and clear glass, along with the attractive dancing flame, add a sumptuous touch to your home.
Key Features:

Robust Metal Structure: Engineered for longevity and durability.

Refined Design: A sleek bedroom fireplace that brings elegance to any room. Free from ash and smoke, it's ideal for your patio, living area, dining room, and more.

Classic Decor Element: Crafted with meticulous detail using metal, stainless steel, and clear glass. The entrancing dance of the flames enriches your decor, adding a lavish touch to your space.
Sustainable and Stylish: The Clean-Burning Bioethanol Fireplace
With a commitment to sustainable elegance, JHY DESIGN offers this innovative fireplace solution, utilizing clean-burning bioethanol. This feature ensures a mesmerizing real flame experience without the traditional hassles, providing an environmentally friendly, emission-free experience.

Fireplace Flexibility: The Ventless Design Innovation
This modern fireplace ideas, with its ventless technology, promises hassle-free placement and flexibility, removing the need for chimneys or extensive modifications. This innovative design is a versatile addition to any space, be it a home or an office, providing warmth and style wherever needed.
Aesthetic and Warmth: Modern Fireplace Style Statement
This fireplace isn't merely about heating; it's an artistic statement piece. The sleek tempered glass, coupled with stainless steel accents, complements diverse interior styles, making it an aesthetic masterpiece for modern living spaces.

User-Friendly Sophistication: Safety Ensured Fireplace Experience
JHY DESIGN understands the importance of safety. This Rectangular Tabletop Fire Bowl Pot comes with safety features, including a protective screen and an integrated extinguishing system, providing a worry-free, sophisticated fireplace experience.
Durable and Decorative: Elegant Fireplace Construction
Experience the durable elegance of our rectangular fireplace, featuring high-quality tempered glass and resilient metal. It's designed to withstand high temperatures, offering a safe and transparent view of the enthralling flames, illuminating your spaces with its enchanting glow.
Fireplace Dimensions: Compact Elegance in Round Design
With its striking design and compact dimensions, this fireplace serves as a stylish centerpiece, enhancing your decor with the graceful dance of the flames and adding a touch of modern elegance to your indoor and outdoor spaces.
IMPORTANT SAFETY MEASURES
1. 130ml ethanol is enough to fill the tabletop fireplace. With 130ml ethanol, it can last burning about 1 hour with charming lights.
2. Do not smoke while filling the fuel pot.
3. For extra protection, as with all items with open flames, keep an easily accessible fire extinguisher nearby.
4. Use only approved liquid ethanol for tabletop fireploces. Do not use any other combustible, such as bio-ethanol car fuel.
5. Do not use the fireplace to cook food or heat water.
6. Do not move fireplace while lit.
7. Never leave the lit fireplace unattended.
8. No need to take off the white fiberglass which is used for absorbing ethanol.
INSTALLATION
1. Choose a location 4ft away from any flammable objects or materials (drapes, fabrics, etc.)
2. Be sure to remove all packing materials, cardboard, plastic, film, etc.
3. The fireplace is intended to be used indoor or outdoor, placed on a tabletop or stable surface.
MAINTENANCE AND CARE
1. The burner may change colour because of the heat. With regular maintenance, it will keep its colour.
2. Use a wet cloth to clean the surface of the fireplace.
3. Fireplace should be cleaned regularly.
4. Do not clean with water or put in a dishwasher. Wipe down the glass surfaces with a warm, damp cloth.
-20%

Regular price

$34.99

-21%

Sale price

$27.99
Choosing a selection results in a full page refresh.