Regular price
Sale price
$32.99
Unit price
per
Couldn't load pickup availability
Availability:
343 in stock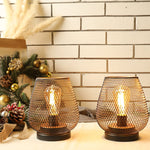 Regular price
Sale price
$32.99
Illuminate Your Space with 6.7" Battery Operated Lamps (Set of 2)
In today's fast-paced world, flexibility and convenience are paramount, even when it comes to lighting. That's where JHY DESIGN's 6.7" Battery Operated Lamps (Set of 2) come into play. These cordless lamps offer a perfect solution for lighting up any space without the hassle of cords and outlets.
Features of the JHY DESIGN 6.7" Battery Operated Lamps

Cordless Freedom

One of the standout features of the JHY DESIGN 6.7" Battery Operated Lamps Set is their cordless design. With no need for cumbersome cords and outlets, these lamps provide the ultimate freedom to place them wherever you desire. Whether you want to create an intimate ambiance on your patio, light up your bedside table, or add a touch of elegance to your dining room, these lamps can be easily relocated to suit your needs.
Set of Two

Each package includes a set of two JHY DESIGN 6.7" Battery Operated Table Lamps, making them a versatile lighting solution for various settings. Use them individually in different rooms or together to create a cohesive lighting scheme. The set of two lamps ensures that you have ample illumination options at your fingertips.
Exceptional Portability

Thanks to their compact size and lightweight construction, these battery-operated lamps are exceptionally portable. You can effortlessly carry them from room to room or take them on outdoor adventures, such as camping trips or picnics. Their portability extends the possibilities for when and where you can use them.
Energy-Efficient LED Technology

These lamps set are equipped with energy-efficient LED bulbs that provide bright and long-lasting illumination. LED technology ensures that you won't have to replace bulbs frequently, making these lamps an environmentally friendly choice that also saves you money in the long run.
Benefits of Using Cordless Lamps

Versatility in Home Decor

Cordless lamps like the JHY DESIGN 6.7" Battery Operated Lamps provide homeowners with the flexibility to experiment with their interior decor. Without the constraints of outlets and cords, you can freely rearrange your lighting fixtures to achieve the desired look and feel in any room.
Safety and Convenience

Traditional lamps with cords can pose tripping hazards and limit your placement options. Cordless lamps eliminate these safety concerns and offer hassle-free placement. Additionally, they are a fantastic solution for areas with limited access to electrical outlets.
Ideal for Outdoor Use
The JHY DESIGN 6.7" Battery Operated Lamps are not confined to indoor spaces. Take them outdoors to light up your garden, patio, or deck. Their weather-resistant design ensures they can withstand various outdoor conditions, enhancing your outdoor entertainment experiences.

Emergency Lighting

Having cordless lamps on hand can be a lifesaver during power outages or emergencies. These lamps are ready to provide reliable illumination when you need it most. Keep them charged and within easy reach for peace of mind.
Applications of JHY DESIGN 6.7" Battery Operated Lamps
Bedroom Lighting: Use them as bedside lamps for late-night reading or create a soothing ambiance for relaxation.


Outdoor Gatherings: Illuminate your outdoor gatherings, whether it's a barbecue night, a romantic dinner, or a garden party.

Camping Adventures: Take these lamps with you on camping trips for convenient and portable lighting in your tent or around the campfire.
Study or Workspace: Enhance your focus and productivity by adding these lamps to your study or workspace.
Restaurant and Cafe Decor: Businesses can use these lamps to add a touch of elegance to their indoor or outdoor seating areas.
JHY DESIGN's 6.7" Battery Lamps (Set of 2) provide easy portability & reliable lighting for various settings - great for home ambiance, outdoor events, or emergencies. Enjoy cordless convenience.
Regular price

Sale price

$34.99
Choosing a selection results in a full page refresh.
Your cart
Recommendations