Regular price
Sale price
$34.99
Unit price
per
Couldn't load pickup availability
Availability:
31 in stock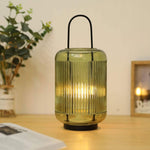 Regular price
Sale price
$34.99
Illuminate Your Events with 30.5cmH Battery-Powered Table Lamp: Cordless with Handle & Remote Control

In a world where versatility and efficiency are key, JHY DESIGN's 30.5cmH Battery-Powered Beside Table Lamp is a standout choice for an array of lighting needs. This cordless lamp with a handle and remote control presents a superb option for lighting up both indoor and outdoor spaces, eliminating the need for troublesome wires and plugs.

Features of the JHY DESIGN 30.5cmH Battery-Powered Table Lamp
Cordless & Convenient

This lamp features a cordless design with a handle, allowing you to place or hang it wherever illumination is required. Whether it's a party, wedding, balcony, or garden setting, this lamp offers effortless relocation to adapt to your lighting needs.
Remote Control & Timer
Equipped with a remote control and a 6-hour timer, this glass table lamp offers convenience and energy efficiency. The remote control allows easy operation, and the timer ensures that the lamp is used optimally, avoiding unnecessary energy consumption.
Battery Operated

Being battery operated, this lamp ensures flexibility and can be used in areas where electricity is not accessible, providing a reliable lighting solution wherever it's needed.

Suitable for Various Occasions
With its versatile design, this lamp is suitable for a variety of events and settings, both indoor and outdoor. It's an excellent choice for creating a warm ambiance at indoor parties and outdoor weddings or just lighting up your balcony or garden.

Attractive Colors

Available in attractive amber and green colors, this lamp adds a splash of color and style to any setting, enhancing the aesthetics of your décor.
Benefits of Using This Cordless Lamp
Flexibility in Décor

JHY DESIGN's 30.5cmH Battery-Powered Modern Lamp allows for experimentation with décor without the limitations of cords and outlets. It provides a warm and stylish ambiance to various settings.
Enhanced Safety
The absence of cords eliminates tripping hazards and offers hassle-free placement, making this lamp a safe option for any environment.

Ideal for Multiple Uses
The lamp's features make it an ideal choice for multiple applications, including indoor parties, outdoor weddings, or simply as a decorative piece for your balcony or garden.

Emergency Lighting Solution

In times of power outages or in areas without electricity, this lamp acts as a reliable source of illumination, ready to light up when needed.

Applications of JHY DESIGN 30.5cmH Battery-Powered Table Lamp

Indoor Parties: Create a lively and warm atmosphere at your indoor events with this versatile lamp.

Outdoor Weddings: Use this lamp to add elegance and warmth to your outdoor wedding settings.

Balcony & Garden Décor: Enhance the ambiance of your balconies and gardens with this stylish lighting solution.

Restaurant & Café Ambiance: Utilize this lamp to set a cozy and inviting mood in the seating areas of restaurants and cafes.
Conclusion
JHY DESIGN's 30.5cmH Battery-Powered Table Lamp with handle and remote control is a blend of style, convenience, and versatility, providing a seamless lighting solution for a myriad of occasions. Its cordless design, coupled with attractive color options, makes it a preferred choice for enhancing the ambiance of any indoor or outdoor setting. Whether it's a party, a wedding, or just a quiet evening in the garden or balcony, this lamp is poised to illuminate your moments with elegance and ease.
Regular price

Sale price

$29.99
Choosing a selection results in a full page refresh.
Your cart
Recommendations