By

JHY DESIGN
9.5"&14.5"&20" High Decorative Candle Lanterns ( Set of 3)
Regular price
Sale price
$102.99
Unit price
per
Couldn't load pickup availability
Availability:
29 in stock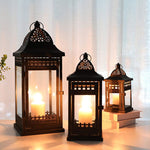 Regular price
Sale price
$102.99
JHY DESIGN's Trio of Elegance: Vintage Style Decorative Candle Lanterns
JHY DESIGN is well-celebrated for its commitment to superior quality in the domain of lighting and home décor, offering an assortment of distinguished products like copper  outdoor lanterns, battery lamps, and decorative furniture. The trio of Decorative Candle Lanterns epitomizes our devotion to unparalleled design, practicality, and consumer contentment, reflecting a legacy of elegance and quality.
Embodiment of Timeless Aesthetics
JHY DESIGN's set of 3 Decorative Candle Lanterns emerges as a beacon of timeless elegance and sophisticated charm in the decorative lighting industry. These lanterns, with their meticulous craftsmanship, are the ideal enhancement for various atmospheres—be it the tranquility of garden parties or the passionate ambiance of outdoor weddings. Explore the enchanting realm of these outdoor lanterns and experience the transformative essence of light.

Versatile Applications of JHY DESIGN's Outdoor Lanterns

Elevate Garden Atmospheres

Position the outdoor camping lanterns strategically throughout gardens to emanate a welcoming and intimate luminance.
Use them to accentuate particular features, crafting an idyllic and visually appealing garden environment.
Their vintage charm harmonizes perfectly with the outdoor essence, providing an elegant backdrop for evening soirees.
Wedding Elegance

At outdoor weddings, these lanterns serve as magical centerpieces, spreading a romantic aura around tables.
They can be suspended from trees or positioned along paths, softly guiding guests with their gentle illumination.
The amalgamation of metal and translucent glass in the lanterns imparts a vintage allure to wedding arrangements.
Patio and Balcony Brilliance

Introduce JHY DESIGN's Lanterns to your patio or balcony to establish a comforting environment for nightly gatherings.
Their robust metal construction promises durability, qualifying them as a dependable lighting choice for all outdoor locales.
Employ the lanterns to illuminate walkways, ensuring safe traversing during the evening hours.
Indoor Elegance

Although primarily conceptualized for outdoor locales, these lanterns have the adaptability to enrich indoor settings.
Arrange them on tables, shelves, or mantels to introduce a sophisticated element to your interior décor.
Their classic design coalesces seamlessly with diverse interior themes, ranging from rustic to modern.
Detailed Craftsmanship and Features
JHY DESIGN's Decorative  Christmas Lanterns, available in heights of 9.5", 14.5", and 20", are more than mere decorative entities—they are a convergence of art and functionality. Each lantern, constructed with durable metal and washed in a black with gold brush finish, resonates with both classical and contemporary aesthetics. Whether enhancing garden atmospheres, providing a romantic touch to weddings, or illuminating indoor and outdoor spaces, these lanterns are a quintessential selection.
Enlighten Your Spaces with JHY DESIGN
JHY DESIGN is not merely a brand; it's a commitment to excellence, epitomized by our Decorative Candle Lanterns. When choosing JHY DESIGN, you are opting for a blend of style, grace, and enduring quality, ensuring your spaces are imbued with timeless elegance.
These beautifully crafted hanging lanterns are the embodiment of JHY DESIGN's dedication to quality, fulfilling the promise of bringing light and style to every space, indoors or outdoors, with timeless elegance and unparalleled design.
Regular price

Sale price

$34.99
Choosing a selection results in a full page refresh.
Your cart
Recommendations