By

JHY DESIGN
Safe Flameless Battery Powered Candles with Timer for Christmas Decor
Regular price
Sale price
$0.00
Unit price
per
Couldn't load pickup availability
𝐄𝐱𝐩𝐞𝐜𝐭𝐞𝐝 𝐝𝐞𝐥𝐢𝐯𝐞𝐫𝐲: 𝟓-𝟕 𝐝𝐚𝐲𝐬 𝐟𝐫𝐨𝐦 𝐨𝐫𝐝𝐞𝐫 𝐜𝐨𝐧𝐟𝐢𝐫𝐦𝐚𝐭𝐢𝐨𝐧 𝐝𝐚𝐭𝐞
🚚 𝙁𝙧𝙚𝙚 𝙨𝙝𝙞𝙥𝙥𝙞𝙣𝙜 𝙤𝙣 𝙤𝙧𝙙𝙚𝙧𝙨 𝙤𝙫𝙚𝙧 59𝙐𝙎𝘿
---
Availability:
Out of stock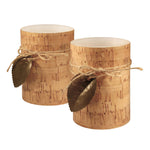 Regular price
Sale price
$0.00
Discover Unique Illumination - The Art of Home Lighting 
Immerse yourself in an ambiance of warmth and elegance with our battery-powered LED candles, adding an extraordinary charm to your space. Each meticulously crafted candle marries elegance with practicality, featuring smart functionalities you'll fall in love with:
Absolutely! I'll incorporate the keywords "flameless candles," "flameless candles with timer," and "battery operated candles" into the five points, emphasizing the versatility and eco-friendly aspects of these candles:
Flameless Elegance with Ivory and Gold
Experience the timeless beauty of flameless candles. The unique ivory wax top and golden base blend classic elegance with modern style, perfect for any setting.
Charming Decor with Timer Functionality
Our flameless candles with timer offer not just beauty but convenience. Adorned with golden bows and berries, these candles automatically illuminate for five hours, enhancing any space with their festive charm.
Eco-Friendly Warm White LED Lighting
njoy the natural warmth of candlelight without the risk. These battery-operated candles emit a soft, warm white glow, offering an eco-friendly lighting solution that saves energy and ensures safety.
Versatile Design with Natural Accents
The combination of cork with leaf patterns and burlap curtain lines makes these candles a versatile addition to any decor style. Perfect for living rooms, bedrooms, or dining areas, they add a touch of nature's elegance.
Compact and Convenient for Multiple Settings
Measuring 7.5*7.5*10cm, these battery-operated candles are ideal for various spaces. Their size and design make them a practical and stylish choice for enhancing different areas of your home.
Illuminate and Transform Your Home with Elegance 
Let these exquisite LED candles be the spark that lights up your home, creating an ambiance filled with warmth and enchantment. Their gentle glow promises to elevate your evenings, turning ordinary moments into memorable experiences. Whether it's a quiet dinner for two, a lively family gathering, or a moment of solitary reflection, these candles add the perfect touch of serenity and elegance to any occasion.
Crafted with attention to detail and designed for versatility, these candles are not just decorative items, but a symbol of eco-friendly sophistication. Their flameless design ensures safety, while the timer function embodies convenience, allowing you to savor the ambiance without any hassle.
Imagine these candles as a centerpiece on your dining table, a tranquil addition to your bedroom, or a warm welcome in your living room. They fit seamlessly into any space, enhancing the beauty and atmosphere of your home.
Don't miss the opportunity to transform your living space into a haven of peace and elegance. Click to purchase now and make these battery-operated LED candles an indispensable part of your home décor. Embrace the fusion of technology and beauty, and let your home glow with a special light that only these unique candles can provide.
Attention

The ON/OFF/TIMER switch is located at the bottom of the LED candle. Battery-powered, 3 AAA batteries are not included.
This electric candle is made of real wax and is also flammable. Do not attempt to light this candle.
Please keep out of direct sunlight, away from heat sources and out of extreme temperatures or your candle may soften or melt.
It is difficult to estimate battery life. Depends on the mode you choose-Continuous on does not last as long as the timing work mode.
Clean the battery contacts and device contacts before installing the battery.
If you do not use the product for a long time, remove the battery. In addition, constant use of the timer however may considerably reduce battery life.

-20%

Regular price

$34.99

-21%

Sale price

$27.99
Choosing a selection results in a full page refresh.