Regular price
Sale price
$19.99
Unit price
per
Couldn't load pickup availability
Availability:
60 in stock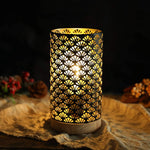 Regular price
Sale price
$19.99
Infuse Modern Elegance with 8.8" Tall Metal Lamp: Fan-Shaped & Battery Powered

Enhance your space with the sophisticated and stylish JHY DESIGN 8.8" Tall Metal Lamp. This exquisite lamp, characterized by its modern fan-shaped pattern and cordless design, is a sublime addition to any setting, from weddings and parties to patios, gardens, and interior spaces.
Features of JHY DESIGN 8.8" Tall Metal Lamp
Contemporary Fan-Shaped Pattern

The elegant fan-shaped pattern of this lamp, coupled with its metal structure, adds a touch of modern elegance to any space, making it a versatile decorative item that seamlessly blends with a variety of decor styles.

Cordless & Battery-Powered with LED Bulb
Enjoy the convenience and flexibility of this cordless, battery-powered lamp, which comes equipped with a durable LED bulb, allowing creative placement anywhere, indoors or outdoors, without dependence on electrical outlets.

Accent Lighting with Wooden Base
This living room lamp, with its distinctive pattern and sturdy wooden base, provides accent lighting that enhances the ambiance of any setting, illuminating the surroundings with a warm and inviting glow.
Compact and Portable Design

Due to its compact size and lightweight nature, this metal lamp can be effortlessly moved to different locations, offering a versatile lighting solution for varied settings and occasions.

Benefits of This Fan-Shaped Battery Lamp
Decorative Versatility
The JHY DESIGN 8.8" metal lamp, with its cordless design and modern fan-shaped pattern, offers endless decorative possibilities, allowing for stylistic rearrangements and experiments without the limitations of cords and outlets.

Safety and User-Convenience

The cordless design eliminates potential tripping hazards and allows hassle-free usage, especially in areas with limited or no access to electrical outlets, making it a practical and safe lighting option.
Suitable for Multiple Occasions

Whether it's an intimate gathering, a lively party, or a serene evening on the patio, this modern lamp is a suitable companion, enhancing the atmosphere with its stylish presence and warm light.
Enhancement of Multiple Spaces
Its contemporary design and warm light make it an ideal choice for accentuating the aesthetic appeal of various indoor and outdoor spaces, creating a cozy and sophisticated environment.

Applications of JHY DESIGN 8.8" Tall Metal Lamp
Special Occasions: Ideal for adding a refined touch to weddings, parties, and other celebratory events with its elegant design and soft light.

Indoor Ambiance: Acts as a chic decorative element, enhancing the interiors with its modern elegance and warm illumination.

Outdoor Settings: Perfect for illuminating gardens, patios, and balconies, adding a warm and inviting glow to outdoor spaces.

Restaurant and Café Decor: Its sophisticated design can enrich the ambiance of dining establishments, offering a pleasant and intimate dining experience.
JHY DESIGN's 8.8" Tall Metal
Cool desk Lamp
, marked by its fan-shaped pattern and cordless functionality, serves as a distinguished decorative lighting solution, enriching a variety of settings with its modern elegance and practical design. Whether you're hosting a celebratory event, enjoying a peaceful evening, or simply decorating indoor or outdoor spaces, this stylish lamp promises to elevate the aesthetic appeal and ambiance of any environment.
Regular price

Sale price

$29.99
Choosing a selection results in a full page refresh.
Your cart
Recommendations