Regular price
Sale price
$62.99
Unit price
per
Couldn't load pickup availability
Availability:
98 in stock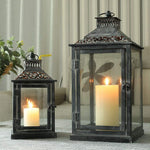 Regular price
Sale price
$62.99
JHY DESIGN's Outdoor Lanterns: A Symphony of Grace and Utility

JHY DESIGN, a distinguished entity in lighting and home adornment, specializes in devising premium quality lighting and decorative remedies. We, at JHY DESIGN, are honored to present a versatile array of products, encompassing outdoor lanterns, battery lamps, alcohol lamps, and electronic candle lights, amongst others. Our prowess goes beyond lighting; we also design splendid furniture and decorative artifacts. Each piece we formulate speaks volumes about our dedication to design, utility, and client contentment. With JHY DESIGN, you are not merely opting for a product; you are investing in a tradition of excellence.

Outdoor Lanterns: Quintessence of Eternal Elegance
JHY DESIGN's Outdoor Camping Lanterns are exemplary of elegance and perpetual sophistication. These lanterns are ingeniously designed to become the centerpiece in diverse environments, from tranquil garden soirees to the amorous milieu of outdoor nuptials. Explore the enchanting realm of JHY DESIGN's Outdoor Lanterns and experience the transformative essence of light.

Applications of JHY DESIGN's Outdoor Lanterns in Varied Ambiances

Garden Radiance

Illuminate your gardens with JHY DESIGN's hanging Lanterns, emanating a warm, welcoming luminescence.
Accentuate distinctive garden features, crafting a scenic panorama.
The vintage demeanor of the lanterns enhances the inherent beauty of open spaces, rendering them ideal for nocturnal repose.
Nuptial Illumination

For alfresco weddings, the hanging lanterns act as bewitching focal points, suffusing tables with romantic light.
Strategically hung from branches or delineating pathways, they guide attendees with their gentle radiance.
The amalgamation of dark cement color and clear glass in the lanterns instills a touch of antiquated charm to matrimonial decorations.
Patio and Veranda Luminance

Elevate your patios or verandas with JHY DESIGN's Led Candle  Lanterns, fostering a snug atmosphere for nocturnal congregations.
Their robust structure guarantees endurance, establishing them as a dependable lighting selection for exteriors.
Illuminate walkways with these lanterns to secure navigation post-sundown.
Interior Elegance

Although primarily crafted for exteriors, these lanterns are flexible enough to grace interiors.
Position them on countertops, tables, or mantels to infuse elegance into your indoor settings.
Their antique design seamlessly amalgamates with various interior aesthetics, from rustic to modern.
Product Description and Details

The Set of 2 Hanging Candle Lanterns from JHY DESIGN is more than just lanterns; they are artworks combining functionality and style. Crafted from durable metal and displaying a dark cement color, these lanterns portray a classic yet contemporary style. Whether arrayed on a tabletop, suspended in your veranda, or serving as eye-catching centerpieces at events, these lanterns are destined to enthrall. By choosing JHY DESIGN, you are embracing a product that's designed to endure.

Illuminate Your Universe with JHY DESIGN
JHY DESIGN is not just a label; it symbolizes a pledge of quality, elegance, and enduring sophistication. Our Christmas Lanterns, particularly the Set of 2 Hanging Candle Lanterns, are reflections of our unwavering commitment to superior standards. Opt for JHY DESIGN and allow us to brighten your world with panache and elegance.
Regular price

Sale price

$34.99
Choosing a selection results in a full page refresh.
Your cart
Recommendations