Regular price
Sale price
$25.99
Unit price
per
Couldn't load pickup availability
Availability:
20 in stock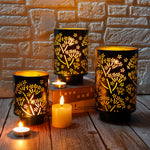 Regular price
Sale price
$25.99
Illuminate Your Space with JHY DESIGN's 7.5" Bronze Hurricane Pillar Candleholders (Set of 3)
In an era dominated by the fusion of traditional elegance and modern design aesthetics, home décor solutions ought to capture the essence of both. JHY DESIGN proudly presents its signature 7.5" Bronze Hurricane Pillar Candleholders, available in a set of three, meticulously crafted to elevate the ambiance of any room. These candleholders seamlessly merge age-old sophistication with contemporary flair, bringing a captivating glow to every nook and corner.
7.5" Bronze Hurricane Pillar Candleholders
Material: Sturdy Metal
Large: 4.5''L x 4.5''W x 7.5"H
Medium: 4''L x 4''W x 6''H
Small: 3.5''L x 3.5''W x 5''H
Color: Enigmatic Dark Green
Features of the JHY DESIGN 7.5" Bronze Hurricane Pillar Candleholders
Timeless Elegance: Moving beyond the confines of typical décor, JHY DESIGN's hurricane candleholders encapsulate timeless beauty. They serve as both functional lighting solutions and statement pieces, perfect for intimate gatherings, relaxing evenings, or grand celebrations.
Set of Three: Dive into versatility with three exquisitely designed candleholders in each set. Display them as a cohesive unit for a dramatic effect or place them individually to sprinkle charm throughout your space. Their sleek design adapts effortlessly, complementing various settings and moods.
Sculpted Brilliance: Crafted with meticulous attention to detail, these candleholders boast a robust structure ensuring longevity, while their dark green hue radiates a mystic allure, reminiscent of age-old tales and aristocratic elegance.
JHY DESIGN's 7.5" Bronze Hurricane Pillar Candleholders: Harmony, Elegance, and Distinctive Beauty
Harmonious Design: These candleholders embody the delicate balance of classic allure and modern sophistication, allowing you to infuse your space with a sense of harmony.
Centrepieces of Attraction: Whether placed on a dining table, mantle, or side table, they command attention, igniting conversations and admiration alike.
Versatile Utility: Suitable for various candle sizes, these holders are perfect for both slender taper candles and wide pillar candles, granting you the flexibility to switch as per the occasion.
JHY DESIGN Candleholders: From Quiet Evenings to Grand Soirees
Tranquil Retreat: Light up your bedroom or reading nook with these candleholders, and let the flickering flames transport you to a world of relaxation and introspection.
Elegant Gatherings: Be it a festive dinner or a romantic date night, these candleholders, with their subtle dark green hue, add a touch of sophistication, making every moment memorable.
Celebratory Ambiance: Perfect for weddings, anniversaries, or birthdays, these candleholders craft a mesmerizing ambiance, leaving an indelible mark on your guests.
Artistic Display: Their unique design makes them ideal for art studios, galleries, or boutique hotels, ensuring a blend of functionality and aesthetic appeal.
JHY DESIGN's 7.5" Bronze Hurricane Pillar Candleholders (Set of 3) are more than just décor pieces; they are emblems of art, elegance, and enduring charm. Dive into a world where beauty meets functionality, where tradition meets innovation. Experience the allure, embrace the glow, and redefine your décor game.
Regular price

Sale price

$34.99
Choosing a selection results in a full page refresh.
Your cart
Recommendations