Regular price
Sale price
$25.99
Unit price
per
Couldn't load pickup availability
𝐄𝐱𝐩𝐞𝐜𝐭𝐞𝐝 𝐝𝐞𝐥𝐢𝐯𝐞𝐫𝐲: 𝟓-𝟕 𝐝𝐚𝐲𝐬 𝐟𝐫𝐨𝐦 𝐨𝐫𝐝𝐞𝐫 𝐜𝐨𝐧𝐟𝐢𝐫𝐦𝐚𝐭𝐢𝐨𝐧 𝐝𝐚𝐭𝐞
🚚 𝙁𝙧𝙚𝙚 𝙨𝙝𝙞𝙥𝙥𝙞𝙣𝙜 𝙤𝙣 𝙤𝙧𝙙𝙚𝙧𝙨 𝙤𝙫𝙚𝙧 59𝙐𝙎𝘿
---
Availability:
20 in stock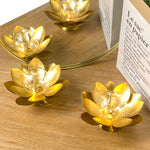 Regular price
Sale price
$25.99
Gold
Illuminate Your Space Anywhere: JHY DESIGN 6''Tall Cordless Battery Operated Lamp
Transform your space with the enchanting glow of the JHY DESIGN 6''Tall Cordless Lamp, a testament to modern elegance and innovation. Unleash the freedom of light wherever you desire, as this battery-operated lamp brings an aura of sophistication to any setting.
*Material: Metal, clear glass bulb and fairy lights
*Size: 3.5"L x 3.5"W x 6" H
*Color: Gold metal, Warm white fairy lights
These table lamps with emits soft warm white light, bright but not extremely bright, doesn't hurt the eyes, will add a nice accent to most any room. Also can be a great gift,perfect for your friends or family who likes retro lighting and interesting home or office decor. Makes an ideal housewarming, Father's Day, Mother's Day, Birthday,or anytime present.
Metal Marvel with a Touch of Gold:Crafted with precision, the lamp boasts a Metal construction in a radiant Gold finish, adding a touch of opulence to your decor. Its compact size of 3.5"L x 3.5"W x 6"H makes it the perfect addition to any space, from side tables to shelves.
Whimsical Warmth:The warm glow emanates from clear glass bulbs adorned with Warm White Fairy Lights, creating an ambiance that's both enchanting and inviting. Whether in your living room, bedroom, or any corner in need of illumination, these modern lamps adds a touch of magical warmth.

Cordless Convenience:Embrace the freedom of a cordless design. No need to worry about outlets or hiding unsightly cords. This lamp is designed to provide you with hassle-free illumination, making it a versatile addition to your home decor.

Battery Operated Brilliance:Powered by batteries, this lamp offers the flexibility to place it wherever you desire, unrestricted by the limitations of traditional lighting. It's not just a lamp; it's a statement of modern design and convenience.

Crafting Brilliance: The Artistry of JHY DESIGN Lamp Material Selection

Embark on a journey into the heart of craftsmanship with JHY DESIGN's commitment to superior materials. The foundation of our lamps is built upon a careful selection of premium materials, with Metal taking the spotlight for its durability and ability to showcase intricate details. Clear glass bulbs add a touch of sophistication, while Warm White Fairy Lights infuse whimsical warmth. Explore the fusion of these materials, meticulously chosen for their quality and visual appeal, creating a lamp that not only illuminates but also captivates with its artistic brilliance.
Elegance in Miniature: JHY DESIGN's Compact Lamp Design Mastery

Witness design excellence in every detail as JHY DESIGN presents the epitome of elegance in compact form. Measuring at a sleek 3.5"L x 3.5"W x 6"H, our living room lamps are a testament to meticulous craftsmanship and modern design mastery. The Gold metal finish adds a luxurious touch, creating a visual feast for the eyes. Discover how our artisans have transformed these carefully chosen materials into a compact masterpiece, a chic addition to any tabletop or shelf that brings sophistication to every corner.

Freedom in Illumination: JHY DESIGN's Cordless Lamp Craftsmanship

Experience the revolution in lighting design with JHY DESIGN's Cordless Lamp. Beyond its aesthetic appeal, the lamp's design liberates you from the constraints of traditional lighting. The Cordless Lamp operates on batteries, offering the freedom to place it wherever desired without the hassle of cords. Delve into the art of illumination as our lamps become not just sources of light but statements of modern design and convenience. Explore the innovative craftsmanship that defines JHY DESIGN's approach to lighting solutions.
Experience the modern brilliance of JHY DESIGN. Illuminate your life with design-forward lighting solutions that bring not just light but a touch of contemporary elegance. Shop now and redefine your living spaces with JHY DESIGN – where innovation meets illumination.
-20%

Regular price

$34.99

-21%

Sale price

$27.99
Choosing a selection results in a full page refresh.