Regular price
Sale price
$32.99
Unit price
per
Couldn't load pickup availability
𝐄𝐱𝐩𝐞𝐜𝐭𝐞𝐝 𝐝𝐞𝐥𝐢𝐯𝐞𝐫𝐲: 𝟓-𝟕 𝐝𝐚𝐲𝐬 𝐟𝐫𝐨𝐦 𝐨𝐫𝐝𝐞𝐫 𝐜𝐨𝐧𝐟𝐢𝐫𝐦𝐚𝐭𝐢𝐨𝐧 𝐝𝐚𝐭𝐞
🚚 𝙁𝙧𝙚𝙚 𝙨𝙝𝙞𝙥𝙥𝙞𝙣𝙜 𝙤𝙣 𝙤𝙧𝙙𝙚𝙧𝙨 𝙤𝙫𝙚𝙧 59𝙐𝙎𝘿
---
Availability:
20 in stock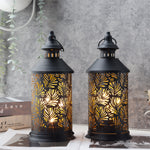 Regular price
Sale price
$32.99
Gold
Illuminate Your Space with JHY DESIGN's 10.5" Vintage Bedside Lamps (Set of 2)
In an era of smart homes and hands-free living, your lighting should never be a compromise. With this ethos at heart, JHY DESIGN presents its distinguished 10.5" Vintage Bedside Lamps, available in a duo set, merging timeless elegance with modern convenience. These battery-operated lamps, adorned with the mesmerizing patterns of a phoenix's tail, cast a captivating glow, making every corner of your space radiate charm and warmth without the limitations of cords or outlets.
10.5"H 
Metal 

Vintage Bedside Lamps
Material: Robust metal with an Edison bulb.
Size: 5"L x 5"W x 10.5" H
Color: Sophisticated black exterior complemented by a golden inner hue and a classic Edison bulb.
Special Feature: Impeccably etched with a phoenix tail pattern, symbolizing resilience and renewal.
Features of the JHY DESIGN 10.5" Vintage Bedside Lamps
Cordless Sophistication: Break away from conventional constraints. These modern lamps redefine what it means to be both functional and stylish, perfectly suitable for a cozy bedside reading or lending a vintage touch to your modern decor.
Twin Set: Double the allure with two exquisitely designed lamps in one set. Display them as individual accent pieces or pair them together for a harmonized look. Their versatility makes them the perfect fit for varied interiors.
Light on the Move: Their compact and sturdy structure ensures they're not just confined to one spot. Move them around to suit your mood, occasion, or decor. Perfect for lighting a late-night garden party or an intimate balcony rendezvous.
Green Brilliance: These

battery operated lamps

aren't just aesthetically pleasing; they're eco-conscious. With energy-saving LED technology, enjoy a prolonged luminous experience while being kind to the planet.
JHY DESIGN's 10.5" Vintage Bedside Lamps: Adaptable, Safe, and Ever-bright
Boundless Adaptability: Unshackled from cables and cords, these

bedside table lamps

 offer the freedom to rejuvenate and reposition your spaces effortlessly.
Safety Always: Free from tangled cables and the constant search for power sockets. These cordless lamps prioritize your safety while ensuring children and pets can roam around without a worry.
Outdoor or Indoor, Always Bright: Their enchanting glow isn't confined to your interiors. Whether it's a garden gathering or a cozy night on the porch, their luminescence never disappoints.
Constant Companions: Come rain or power outage; these trusty lamps ensure you're never left in the dark.
JHY DESIGN Lamps: A Versatile Glow, from Bedrooms to Bistros
Mood-setter for Bedrooms: Place them on your bedside tables for a romantic, old-world charm, or delve into a book under their gentle glow. Their design, enriched with the phoenix tail patterns, adds a touch of vintage elegance to your private retreat.
Al Fresco Elegance: Elevate outdoor gatherings, from barbecue nights to rooftop parties, with these lamps providing a golden-hued glow.
Travel in Style: Their robust structure ensures they're travel-ready. Light up your camping nights or picnics with a touch of vintage flair.
Workspace Glow: Add a touch of sophistication to your office or study. Their soft illumination is known to bolster focus while adding aesthetic appeal.
Dining in Grandeur: Ideal for bistros, cafes, or classy restaurants, these lamps create an inviting atmosphere, ensuring guests dine in the lap of luxury.
JHY DESIGN's 10.5" Vintage Bedside Lamps (Set of 2) aren't merely for illumination; they are symbols of style, safety, and sustainability. Dive into a realm where old-world charm meets modern convenience. Experience boundless luminosity, celebrate the golden glow, and revel in unparalleled cordless luxury.
-20%

Regular price

$34.99

-21%

Sale price

$27.99
Choosing a selection results in a full page refresh.