Regular price
Sale price
$32.99
Unit price
per
Couldn't load pickup availability
𝐄𝐱𝐩𝐞𝐜𝐭𝐞𝐝 𝐝𝐞𝐥𝐢𝐯𝐞𝐫𝐲: 𝟓-𝟕 𝐝𝐚𝐲𝐬 𝐟𝐫𝐨𝐦 𝐨𝐫𝐝𝐞𝐫 𝐜𝐨𝐧𝐟𝐢𝐫𝐦𝐚𝐭𝐢𝐨𝐧 𝐝𝐚𝐭𝐞
🚚 𝙁𝙧𝙚𝙚 𝙨𝙝𝙞𝙥𝙥𝙞𝙣𝙜 𝙤𝙣 𝙤𝙧𝙙𝙚𝙧𝙨 𝙤𝙫𝙚𝙧 59𝙐𝙎𝘿
---
Availability:
20 in stock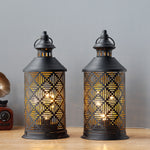 Regular price
Sale price
$32.99
Illuminate Your Space with JHY DESIGN's 10.5" H Cordless Lamps Vintage Farmhouse Lantern (Set of 2)
In today's era where functionality melds with elegance, JHY DESIGN seamlessly crafts lighting masterpieces that stand out. Introducing our 10.5" H Cordless Lamps Vintage Farmhouse Lantern, now available in a duo, masterfully encapsulating modern aesthetics with timeless charm. Immerse every nook and cranny of your abode in the soft, welcoming embrace of these lamps, negating the need for cords or the pursuit of power sockets.
10.5" H Vintage Farmhouse Lantern
Material: Resilient Metal with an Edison bulb
Size: 5"L x 5"W x 10.5" H
Color: Sophisticated Black complemented by a gold interior sheen and Edison bulb.
Structure: Robust and built to last
Features of JHY DESIGN's 10.5" H Vintage Farmhouse Lantern
Cordless Grace: Move beyond the confines of traditional lighting. JHY DESIGN's battery operated lamps are symbols of modern adaptability, ideal for serene veranda evenings, comforting bedtime reads, or intensifying dinner moments. Embodying modern designs, these small lamps are a testament to style and portability.
Set of Two: Double the allure with two finely crafted JHY lanterns in every set. Deploy them distinctively for diverse luminance or in tandem for a unified glow. These modern lamps effortlessly tailor themselves to harmonize with varied ambiences and themes.
Unrivalled Mobility: Their sleek dimensions and sturdy structure make these lamps indispensable allies for spontaneous room transformations, exterior endeavors, or instant décor alterations.
Eco-conscious Brilliance: More than just illuminators, these lamps are friends of the environment. The Edison bulb ensures luminous, long-lasting light, championing energy conservation.
JHY DESIGN's 10.5" H Vintage Farmhouse Lantern: Infinite Adaptability, Safety, Outdoor Luminescence, and Consistent Brightness
Limitless Versatility: Venture beyond traditional lighting paradigms. With JHY DESIGN, tweak, transition, and transform spaces effortlessly.
Prioritizing Safety: Bypass the concerns of messy cords or outlet placements. The cordless approach assures a safe haven, ensuring peace of mind.
Outdoor Splendor: Transition from indoors, lighting up garden parties, patio gatherings, or simply basking in the night's serenity.
Ever-Luminous: Stand resilient against power hitches, with the lanterns promising an unwavering glow, warding off unexpected dimness.
JHY DESIGN Lamps: Fluid Elegance from Residential Coziness to Commercial Chic
Bedroom Tranquility: Nestle these battery operated lanterns on bedside tables, orchestrating a mood conducive for nocturnal reflections or dawn daydreams. The gold innards and Edison bulb work in harmony, conjuring a warm, inviting sanctuary.
Outdoor Majesty: Amplify your open-air events, from bustling BBQs to calm moonlit rendezvous, with the lanterns' encompassing brilliance. Their golden interiors breathe life, crafting a captivating milieu.
Nature's Confidante: Illuminate camping nights, ensuring nocturnal splendors rival daytime adventures. The golden nuances and Edison bulb lend a touch of luxury.
Functional Sophistication: Augment your work or study zones with the lanterns' muted glow. Their contemporary design, accentuated by gold touches, forges a visually delightful work ambiance.
Elevated Commercial Ambiance: Ideal for boutique cafes or plush lounges, the lanterns design an entrancing environment. The harmonization of black metal, Edison bulb, and gold highlights crafts an unforgettable experience for your clientele.
JHY DESIGN's 10.5" H Vintage Farmhouse Lantern (Set of 2) transcends mere illumination. They're emblematic of style, safety shields, and eco-friendly luminaires. Delve into a realm where light becomes art. Relish the autonomy, surrender to the luminance, and bask in unmatched cordless luxury.
-20%

Regular price

$34.99

-21%

Sale price

$27.99
Choosing a selection results in a full page refresh.