Regular price
Sale price
$32.99
Unit price
per
Couldn't load pickup availability
𝐄𝐱𝐩𝐞𝐜𝐭𝐞𝐝 𝐝𝐞𝐥𝐢𝐯𝐞𝐫𝐲: 𝟓-𝟕 𝐝𝐚𝐲𝐬 𝐟𝐫𝐨𝐦 𝐨𝐫𝐝𝐞𝐫 𝐜𝐨𝐧𝐟𝐢𝐫𝐦𝐚𝐭𝐢𝐨𝐧 𝐝𝐚𝐭𝐞
🚚 𝙁𝙧𝙚𝙚 𝙨𝙝𝙞𝙥𝙥𝙞𝙣𝙜 𝙤𝙣 𝙤𝙧𝙙𝙚𝙧𝙨 𝙤𝙫𝙚𝙧 59𝙐𝙎𝘿
---
Availability:
30 in stock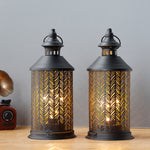 Regular price
Sale price
$32.99
Gold
Illuminate Your Space with JHY DESIGN's 10.5" H Cordless Lamps Vintage Farmhouse Lanterns (Set of 2)
In an era dominated by the pursuit of convenience and style, your choice of lighting shouldn't lag. JHY DESIGN proudly presents the epitome of sophistication with its 10.5" H Cordless Lamps Vintage Farmhouse Lanterns. Offered in a set of two, these lamps are crafted to infuse a blend of vintage charm and modern elegance, illuminating every nook of your space without the restrictions of cords or the need for electrical outlets.
Vintage Farmhouse Battery Operated Lanterns
Material: Durable Metal with Edison bulb
Size: 5"L x 5"W x 10.5" H
Color: Sleek Black with an interior touch of gold, accompanied by the classic glow of an Edison bulb.
Special Feature: Double the brilliance - a two-piece set that perfectly complements any decor.
Features of the JHY DESIGN 10.5" H Cordless Lamps
Cordless Grace: Bid farewell to the confines of traditional lighting. JHY DESIGN's Battery Operated Lanterns embody modern convenience. Whether you're aiming for a rustic farmhouse feel, a gentle bedside glow, or a sophisticated dinner setting, these modern lamps stand as the beacon of adaptive illumination.
Two of a Kind: Double the allure with two meticulously designed JHY lanterns in each package. Whether placed individually across rooms or paired together for a harmonious display, these modern lanterns transition seamlessly, reflecting varied atmospheres and styles.
Travel-light Lighting: Boasting a compact design and robust structure, these

battery operated lamps

are your go-to partners for spontaneous decor shifts, adventurous outdoor soirees, or even intimate balcony retreats.
Eco-conscious Luminance: Beyond their captivating brilliance, these lanterns champion sustainability. Their energy-efficient Edison bulbs emanate a steady, enduring glow, preserving both energy and ambiance.
JHY DESIGN's 10.5" H Battery Operated Lamps: Unparalleled Versatility, Assured Safety, and Undisturbed Radiance
Unbounded Creativity: No longer tethered to power sockets, you're free to unleash your imagination. Be it a cozy bedroom corner, a festive outdoor setup, or a classy living room arrangement, JHY DESIGN's lanterns accommodate every whim.
Safety Paramount: With no trailing cables, risks of trips and falls are drastically reduced, ensuring a safe haven for you and your loved ones.
Indoor and Outdoor Elegance: With an allure that isn't confined by walls, these lanterns can elevate your garden parties, veranda chill-outs, or even beach picnics, basking every setting in their warm, inviting glow.
Reliable Illumination: Even in unexpected power glitches, these

small lamps

promise an unwavering luminescence, warding off unsettling darkness.
JHY DESIGN Lanterns: The Essence of Elegance, From Homes to Businesses
Homey Warmth: Envision these battery-operated lanterns casting their warm, golden glow in your living room, bedroom, or study. Their elegant metal framework, accentuated by the gold undertones, paints every room with a stroke of cozy vintage charm.
Celestial Outdoor Beauty: From spirited backyard BBQs to calm evening porch relaxation, let these lanterns be your luminary companions, their gold-tinted insides reflecting the joy and tranquility of the occasion.
Journey in Style: Whether you're camping under a starlit sky or enjoying a beach sunset, these lanterns promise to add a touch of rustic glam to every adventure.
Chic Workspace Luminescence: The subtle elegance of these lanterns complements every workspace, from modern home offices to trendy cafes, ensuring an ambience that merges style with purpose.
Elevate Business Settings: Ideal for upscale restaurants, boutique hotels, or contemporary lounges, these lanterns create an ambiance of refined luxury, making every guest's experience a memorable one.
JHY DESIGN's 10.5" H Battery Operated Lanterns (Set of 2) aren't just about illumination – they epitomize style, safety, and sustainability. Step into a realm where lighting beckons endless potential. Discover the allure, bask in the glow, and cherish the unmatched freedom of cordless brilliance.
-20%

Regular price

$34.99

-21%

Sale price

$27.99
Choosing a selection results in a full page refresh.