Regular price
Sale price
$26.90
Unit price
per
Couldn't load pickup availability
𝐄𝐱𝐩𝐞𝐜𝐭𝐞𝐝 𝐝𝐞𝐥𝐢𝐯𝐞𝐫𝐲: 𝟓-𝟕 𝐝𝐚𝐲𝐬 𝐟𝐫𝐨𝐦 𝐨𝐫𝐝𝐞𝐫 𝐜𝐨𝐧𝐟𝐢𝐫𝐦𝐚𝐭𝐢𝐨𝐧 𝐝𝐚𝐭𝐞
🚚 𝙁𝙧𝙚𝙚 𝙨𝙝𝙞𝙥𝙥𝙞𝙣𝙜 𝙤𝙣 𝙤𝙧𝙙𝙚𝙧𝙨 𝙤𝙫𝙚𝙧 59𝙐𝙎𝘿
---
Availability:
50 in stock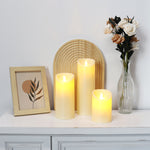 Regular price
Sale price
$26.90
The Luminescence of JHY DESIGN's Remote-Controlled Plastic Battery Candle
Illuminate Your Moments with JHY DESIGN's Remote-Controlled LED Candle Collection
In the world of ambient lighting and decor, JHY DESIGN stands as a symbol of elegance and innovation. Our LED candle collections don't just illuminate your surroundings; they transform ordinary spaces into extraordinary experiences.
Introducing the Brilliance of Our Remote-Controlled Battery Candles
Witness the captivating dance of swaying LED flames that closely mirror the movement of real candle flames. Precision-crafted, these candles present a smooth cylindrical shape with a diameter of 3.1 inches, seamlessly fitting into various décors and settings.
Why JHY DESIGN's Battery-Powered Candles are a Decorative Triumph
Flawless Safety:
Made with a plastic exterior, these flameless LED pillar candles eliminate the risks associated with open flames, providing peace of mind while setting a serene atmosphere.
Pack of Three:
Elevate the charm of your space with this captivating set of three, making it an unparalleled gift or a statement piece for your home.
Remote-Controlled Excellence:
Ease of use is at the forefront with the inclusion of a remote control, allowing you to adjust the candle's settings from a distance, enhancing the user experience.
Smooth and Sleek Design:
Boasting a polished, cylindrical form, these candles are the perfect blend of modern aesthetics and timeless elegance.
Prolonged Illumination:
Powered by three AAA batteries, these candles promise consistent and prolonged illumination, ensuring your spaces remain aglow for extended durations.
Experience Enchanting Illumination with JHY DESIGN
150 hours of ceaseless glow ensures that these battery-powered marvels stand as a testament to longevity and elegance. From festive celebrations to tranquil evenings, they're your trusted companions for creating the right ambiance.
Customer Voices:
Reveling in the Glow of Our Flameless Candles
"JHY DESIGN's flickering
Led candle
 set has added a touch of magic to my bedroom. It's incredible how lifelike they appear!" - Clara M.
"Gifted the battery-powered candles to my best friend for her wedding, and she was overjoyed. Exceptional quality and aesthetic!" - Liam G.
Queries Surrounding JHY DESIGN's Battery Candle Set?
How enduring is the battery life for these candles?
The candles promise a staggering 150 hours of illumination, keeping your spaces aglow for prolonged periods.
Are they suitable for outdoor use?
Their impeccable design ensures they're versatile, fitting both indoor and outdoor scenarios.

Explore a world of sophistication and charm with JHY DESIGN's flickering battery candle set. Perfect for gifting or personal use, they're the epitome of beauty and function merging seamlessly.
Are the candles durable given they are made of plastic?
Yes, the high-quality plastic not only provides safety from potential fire hazards but also ensures durability and resilience.
Journey into a realm of sophistication, elegance, and advanced functionality with JHY DESIGN's remote-controlled plastic battery candle set. Whether you're gifting them or adorning your space, they stand as a testament to the harmonious blend of design, safety, and technology. Light up your world with JHY DESIGN today.
-20%

Regular price

$34.99

-21%

Sale price

$27.99
Choosing a selection results in a full page refresh.