Regular price
Sale price
$41.00
Unit price
per
Couldn't load pickup availability
Availability:
Low stock: 10 left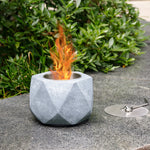 Regular price
Sale price
$41.00
Modern Geometry Cemented in Flame: The Desktop Cement Fireplace
Introducing a masterpiece where innovation meets artistry: The Desktop Cement Fireplace by our brand. Sculpted from a robust concrete base and adorned with a meticulously geometric pattern, this fireplace redefines the ethos of modern living spaces.
Desktop Cement Fireplace: A Statement of Elegance and Utility
We bring to you the ultimate modern fireplace solution powered by clean-burning bioethanol. The eco-conscious choice for those who prioritize both aesthetics and the environment. Indulge in the luxury of a real flame without the traditional limitations and complications.
1. Modern Aesthetics: Geometric Artistry in Concrete
The Cement Tabletop Fireplace draws inspiration from the contemporary designs of geometric minimalism. Its compact dimensions of 4.7*3.3 inches allow it to be a fitting centerpiece, turning ordinary rooms and patios into exquisite spaces of warmth and character.
2.Stainless Brilliance: The Steel Burner Cup

A fusion of durability and modernity, the stainless steel burner cup ensures longevity while adding a touch of elegance to the bio ethanol fireplace. Designed to withstand high temperatures, it ensures that the flames dance safely within its confines.

3. Safety Above All: Premium Fire Extinguisher

We prioritize your safety. This fireplace, apart from its artistic allure, is equipped with a high-quality fire extinguisher, ensuring that every flame-lit moment is free from worries.

Benefits of Choosing Bio Ethanol Fireplaces

Eco-conscious Choice: Make a statement not just in design but also in responsibility. With our fireplace, you embrace an eco-friendly ambiance, letting you enjoy the mesmerizing dance of flames guilt-free.
Compact Elegance: Especially curated for urban dwellings, its size ensures that even the coziest of spaces can boast of a luxurious fireplace.
Maintenance-Free Living: Ash, soot, and residue are tales of the past. Relish in a fireplace that's as clean in operation as it is in design.

Versatile Charm: Whether it's a date night, a serene evening of solitude, or an outdoor party under the stars, our outdoor fireplace is your companion for every mood and occasion.
Widely Usage of Fireplace
Enticing Evenings: Paint your evenings with hues of love and warmth. Be it a date or a solitary moment of introspection, our fireplace sets the right ambiance.Outdoor Gatherings: Elevate your garden parties and outdoor gatherings, adding warmth and sophistication.
Outdoor Elegance: Amp up your backyard soirées with the delicate charm of the Desktop Cement Fireplace.
Gourmet Glow: Let diners bask in the glow of our decorative fireplace, ensuring a memorable culinary experience.

Calm Corners: Create a serene corner in your abode. Light up our fireplace, pick up a book, and let tranquility embrace you.
JHY DESIGN: A Blend of Elegance and Functionality in Modern Heating Solutions
In an era where design meets functionality, our Desktop Cement Fireplace stands as a beacon of modern elegance and efficiency. Every product we offer speaks volumes of our dedication to exceptional quality and pioneering innovation.
Installation & Safety Guidelines:

1. Place the fireplace on a stable surface, ensuring it's away from flammable materials.
2. Perfect for both indoor serenity and outdoor vibrancy.
3. Use only approved bioethanol for a clean and safe burn.
4. For your safety, always have the provided fire extinguisher within reach and never leave the lit fireplace unattended.
In essence, our Desktop Cement Fireplace isn't just a heating instrument; it's a symphony of contemporary design, safety, and luxurious warmth, waiting to elevate your living spaces.
Regular price

Sale price

$34.99
Choosing a selection results in a full page refresh.
Your cart
Recommendations