By

JHY DESIGN
22"&17" H Outdoor Vintage Metal Candle Lanterns(Grey with Black Brush)
Regular price
Sale price
$66.99
Unit price
per
Couldn't load pickup availability
Availability:
30 in stock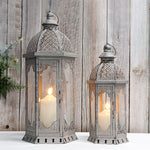 Regular price
Sale price
$66.99
wall
JHY DESIGN's Outdoor Lanterns: The Epitome of Elegance and Utility
JHY DESIGN is a distinguished brand in the realm of lighting and home decor, fervently dedicated to fashioning high-caliber illumination and decorative solutions. We, under JHY DESIGN, earnestly take pride in our assorted product range, embracing diverse outdoor lanterns, including our 22" and 17" High Outdoor Vintage Metal Candle Lanterns, Grey with Black Brush.
Our outdoor lanterns signify more than mere decorative pieces; they encapsulate a blend of artistic finesse and practical utility, harmonizing effortlessly with varying settings and themes. With JHY DESIGN, customers don't just select a product; they embrace a heritage of unparalleled excellence and aesthetic appeal.

Outdoor Lanterns: Portraying Everlasting Elegance
Our 22" and 17" High Outdoor Vintage Metal Candle Lanterns symbolize timeless elegance and sophistication. These meticulously crafted outdoor lanterns serve versatile decorative purposes, from enhancing the allure of serene garden parties to adding a romantic flair to outdoor weddings, offering a captivating experience to the observers.

Diverse Applications of JHY DESIGN's Outdoor Lanterns

Enchanting Garden Ambiance

Strategically placing these outdoor wall lanterns around gardens emanates a warm and welcoming radiance.
They impeccably highlight distinct garden features, generating a scenic panorama.
The lanterns' vintage style augments the natural allure of outdoor environments, ideal for nocturnal relaxation.
Romantic Wedding Décor

Serve as beguiling centrepieces at outdoor weddings, dispersing a romantic luminescence over tables.
They can dangle from trees or delineate walkways, navigating guests with their gentle glow.
The fusion of metal and clear glass provides a dash of retro charm to the wedding decorations.
Cozy Patio and Porch Illumination
Elevate your patio or porch's aesthetic with JHY DESIGN's Camping Lanterns, crafting a snug atmosphere for evening congregations.
The resilient metal frame promises longevity, establishing them as a trustworthy lighting option for outdoor locales.
Light up pathways with these lanterns, ensuring secure passage at night.
Indoor Aesthetic Enhancement

Despite being crafted primarily for outdoor utilizations, these lanterns' versatility enriches indoor spaces with equal elegance.
Station them on shelves, tables, or mantelpieces to refine your interior décor.
The antique design flawlessly integrates with various interior designs, spanning from rustic to contemporary.
Exceptional Craftsmanship and Features
The 22" & 17" High Outdoor Vintage Metal Candle Lanterns are not just products; they are curated experiences. The integration of grey metal with subtle black brush strokes and clear glass articulates a design that is both vintage and contemporary. The lanterns promise durability, ensuring that they remain a staple in your décor for years to come, be it on a tabletop or suspended gracefully on a porch.

Embrace Elegance with JHY DESIGN
JHY DESIGN is not just a brand; it is a journey through elegance, quality, and everlasting beauty. The christmas lanterns, with a special mention to the 22" & 17" High Outdoor Vintage Metal Candle Lanterns, are reflections of our commitment to superior quality and design ethos. Opt for JHY DESIGN and let the graceful symphony of light and design resonate through your spaces.
Regular price

Sale price

$29.99
Choosing a selection results in a full page refresh.
Your cart
Recommendations