By

JHY DESIGN
20''&14"&10" H Outdoor Candle Lanterns (White with Gold Brush)
Regular price
Sale price
$89.99
Unit price
per
Couldn't load pickup availability
Availability:
30 in stock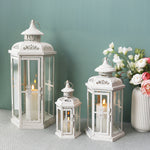 Regular price
Sale price
$89.99
JHY DESIGN's Set of 3 Outdoor Candle Lanterns: A Symphony of Elegance and Functionality

JHY DESIGN, a distinguished manufacturer of lighting and home decor, is devoted to forging illumination and decorative solutions of supreme quality. Under the esteemed banner of JHY DESIGN, our diversified product line, featuring outdoor lanterns, battery lamps, alcohol lamps, and electronic candle lights, reflects our unwavering commitment to design, functionality, and customer contentment. Our craftsmanship transcends lighting, delving into the realm of furniture and decorative items, all designed with a meticulous eye for detail. Choosing JHY DESIGN means investing in a tradition of excellence and a legacy of refined taste.

Set of 3 Outdoor Candle Lanterns: The Pinnacle of Timeless Elegance

JHY DESIGN's Set of 3 Outdoor Candle Lanterns emerge as epitomes of timeless elegance and sophisticated charm in the world of decorative lighting. Crafted with precision, these outdoor lanterns are designed to be the center of attraction in diverse settings, from tranquil garden parties to the intimate surroundings of outdoor weddings. Experience the enchanting universe of JHY DESIGN's Outdoor Candle Lanterns and discover the transformative essence of light.

Applications of JHY DESIGN's Set of 3 Outdoor Candle Lanterns in Different Scenarios

Garden Ambiance

The strategic placement of JHY DESIGN's hanging lanterns around gardens emanates a warm and welcoming radiance.
These outdoor lanterns accentuate specific garden elements, rendering a scenic landscape.
Their classic style melds seamlessly with the inherent beauty of outdoor environs, serving as the ideal companions for nocturnal relaxation.
Wedding Decor
These lanterns act as magical centerpieces at outdoor weddings, bestowing tables with a romantic luminance.
Suspended from trees or positioned along aisles, they light the way with their gentle gleam.
The amalgamation of metal and transparent glass in the lanterns introduces a hint of vintage allure to wedding decorations.
Patio and Porch Lighting
JHY DESIGN's camping lanterns enrich patios and porches, establishing a snug ambiance for evening soirees.
Their robust metal construct promises enduringness, positioning them as the dependable choice for illuminating outdoor locales.
The lanterns are also suitable for enlightening walkways, facilitating safe passage during the nocturnal hours.
Indoor Decor

While conceptualized primarily for outdoor embellishment, these lanterns' versatility enables them to adorn indoor spaces with equal flair.
Station them on shelves, tables, or mantles to infuse your interiors with a dash of elegance.
Their archaic design integrates effortlessly with a plethora of interior themes, from the rustic to the modern.
Product Description and Features

JHY DESIGN's Set of 3 Outdoor Candle Lanterns are not ordinary lanterns; they are artistic masterpieces that blend timeless design with exceptional craftsmanship. Constructed with durable metal and tempered glass panels, these lanterns exude a vintage aura that is both retro and contemporary. With dimensions of 20.5", 14", and 10", they accommodate diverse settings with ease. Whether as tabletop adornments, porch hangings, or event centerpieces, these lanterns captivate every observer. The JHY DESIGN guarantee of quality assures you are acquiring a product destined to endure.

Illuminate Your World with JHY DESIGN

JHY DESIGN is not merely a brand; it symbolizes a commitment to quality, elegance, and enduring beauty. Our Set of 3 Outdoor Christmas Lanterns, with their meticulous detailing and superior aesthetics, stand as proofs of our dedication to excellence. Opt for JHY DESIGN and allow us to illuminate your world with unparalleled style and grace.
Regular price

Sale price

$29.99
Choosing a selection results in a full page refresh.
Your cart
Recommendations