By

JHY DESIGN
17.5''&24.5'' H Metal Decorative Candle Holders Rustic Hanging Lantern(Set of 2)
Regular price
Sale price
$84.99
Unit price
per
Couldn't load pickup availability
𝐄𝐱𝐩𝐞𝐜𝐭𝐞𝐝 𝐝𝐞𝐥𝐢𝐯𝐞𝐫𝐲: 𝟓-𝟕 𝐝𝐚𝐲𝐬 𝐟𝐫𝐨𝐦 𝐨𝐫𝐝𝐞𝐫 𝐜𝐨𝐧𝐟𝐢𝐫𝐦𝐚𝐭𝐢𝐨𝐧 𝐝𝐚𝐭𝐞
🚚 𝙁𝙧𝙚𝙚 𝙨𝙝𝙞𝙥𝙥𝙞𝙣𝙜 𝙤𝙣 𝙤𝙧𝙙𝙚𝙧𝙨 𝙤𝙫𝙚𝙧 59𝙐𝙎𝘿
---
Availability:
50 in stock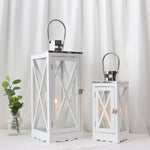 Regular price
Sale price
$84.99
JHY DESIGN's Set of 2 Rustic Hanging Outdoor Lanterns: A Symphony of Aesthetic Brilliance and Utility

JHY DESIGN is a hallmark of excellence in the domain of innovative lighting and home décor. We pride ourselves on our expansive portfolio of artistic and high-quality products, such as battery lamps, outdoor lanterns, alcohol lamps, and electronic candle lights, each meticulously crafted to perfection. Our dedication to creating exceptional decorative solutions extends to a diverse range of furniture and decorative pieces, signifying a true passion for design, functionality, and customer satisfaction. At JHY DESIGN, we offer more than just products; we offer an experience steeped in a legacy of quality and design brilliance.

Rustic Hanging Outdoor Lanterns: Artistry in Light
Our set of two rustic hanging  lanterns are a quintessence of timeless beauty and elegance. These lanterns are a sublime blend of old-world charm and contemporary finesse, designed meticulously to be the centerpieces in various settings, from garden soirees to enchanting outdoor weddings. With JHY DESIGN's Outdoor Lanterns, you are not just choosing a decorative piece; you are choosing a piece of art that illuminates and transforms spaces with its mesmerizing light.

Multifaceted Applications

Garden Oasis

These camping lanterns cast a gentle, warm glow, creating an inviting and relaxing ambiance in gardens, enhancing every natural detail and feature.
The vintage charm of the lanterns adds an exquisite touch, complementing the tranquility and beauty of the surroundings, perfect for a serene evening retreat.
Strategically positioning the lanterns can bring focus to specific garden elements, weaving a picturesque visual tapestry.
Enchanting Wedding Settings

As spellbinding centerpieces, they encapsulate wedding tables in a soft, romantic light, infusing every moment with an ethereal charm.
The subtle light radiating from the candle  lanterns establishes a magical aura, especially when suspended amidst the trees or aligned along the pathways, setting a romantic tone for the celebration.
The fusion of refined metal and clear glass seamlessly integrates with a range of wedding themes, introducing a rustic elegance to the nuptial festivities.
Patio and Porch Radiance

The hanging lanterns illuminate patios and porches with a serene and warm light, setting the mood for tranquil evening gatherings.
Their resilient metal construct assures durability and long-lasting elegance, making them a dependable choice for outdoor environments.
Strategically placed along walkways, these lanterns provide adequate lighting, ensuring safety and visibility during the night.
Indoor Elegance

Although conceived for outdoor use, the versatility of these outdoor lanterns makes them an exquisite addition to indoor spaces, adding a rustic flair to mantelpieces, shelves, or tables.
Their elegant design harmonizes with a myriad of interior décor styles, whether it's modern, classic, or rustic.
Exquisite Features and Specifications
This set comprises two intricately designed christmas lanterns of 17.5" and 24.5" height, radiating rustic elegance. They are meticulously crafted from robust metal, promising longevity, coupled with clear glass panels that scatter the light beautifully, enveloping spaces in a warm and cozy ambiance.

Experience Elegance with JHY DESIGN
JHY DESIGN is not just a brand; it's a commitment to unparalleled elegance, quality, and innovative design. Our Rustic Hanging Outdoor Lanterns are representative of our dedication to excellence and artistic innovation. By choosing JHY DESIGN, you are embracing a world of aesthetic brilliance and sophistication, allowing us to illuminate your world with style and grace, transcending the ordinary.
-20%

Regular price

$34.99

-21%

Sale price

$27.99
Choosing a selection results in a full page refresh.