By

JHY DESIGN
15"&11''H Outdoor Candle Lanterns Rustic Decorative Lanterns
Regular price
$42.99
Sale price
$38.99
Unit price
per
-$4.00
Couldn't load pickup availability
Availability:
30 in stock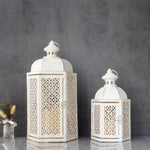 Regular price
$42.99
Sale price
$38.99
JHY DESIGN: A Beacon of Timeless Elegance with Outdoor Candle Lanterns
JHY DESIGN, a revered name in the realms of innovative lighting solutions and home adornments, is proud to unveil its exclusive collection of outdoor candle lanterns, symbolizing a seamless amalgamation of aesthetic richness and practicality. Our core competency lies in creating enduring and versatile lighting entities and home décor artifacts, offering a diverse spectrum spanning battery lamps, outdoor candle lanterns, and electronic candle lights. Every creation of JHY DESIGN manifests our unwavering dedication to excellence in design, robust quality, and unsurpassable customer contentment. Opting for JHY DESIGN means choosing an enduring companion in elegance and quality.

The Enigmatic Charm of Outdoor Lanterns
The JHY DESIGN outdoor lanterns are perpetual masterpieces, meticulously conceptualized to become the illuminating focal point in varied ambiance, from the serene allure of garden gatherings to the romantic vibes of alfresco weddings. Delve into the mystical world of our outdoor wall lanterns and witness the metamorphic charm of enlightened elegance.

Crafting Atmospheric Brilliance Across Spaces

Enchanting Garden Illumination
Our outdoor lanterns emit a celestial brilliance, accentuating the beauty of gardens and shaping captivating visual vistas. The antiquated allure of these lanterns coalesces effortlessly with the natural magnificence of gardens, setting the scene for tranquil nocturnal retreats.


Serving as enchanting centerpieces, these camping lantern outdoor infuse every wedding setup with a nostalgic luminance. Suspended from trees or decorating the aisles, their mesmerizing luminosity navigates the attendees through the festive surroundings, intensifying the overall celebratory mood.

Amplify the warmth of your patios with our sublime outdoor lanterns, whose embracing glow constructs an inviting milieu for various gatherings. The durable metallic frame promises enduring brilliance, standing as a testament to their reliability in brightening open spaces.

Transcending their fundamental outdoor roles, these lanterns augment indoor settings with their refined appeal, imparting a sense of aristocracy to any shelf, table, or fireplace mantle they grace.

Embracing the JHY DESIGN Legacy
JHY DESIGN is a symbol of unparalleled elegance and impeccable design integrity. Our range of candle lanterns, particularly the 15" and 11" high rustic decorative lanterns, mirror our commitment to delivering décor solutions that endure the sands of time. Welcome the enduring allure of JHY DESIGN and let us bathe your abode in unmatched elegance and stylistic supremacy.

Illuminate Your World Sustainably with JHY DESIGN
JHY DESIGN's outdoor lanterns are a marvelous convergence of artistic expression and functional grace. Whether illuminating gardens with ethereal radiance, adding a sprinkle of romantic charm to weddings, or imbuing patios with a rustic elegance, our christmas lanterns are the quintessential choice for those yearning for an infusion of everlasting elegance and practical charm. Explore the multifaceted world of JHY DESIGN, and let the intricate dance of light and shadow elevate your living experience.
Regular price

Sale price

$29.99
Choosing a selection results in a full page refresh.
Your cart
Recommendations