By

JHY DESIGN
12''&16.5'' High Vintage Hanging Decorative Candle Lantern(Set of 2 White)
Regular price
Sale price
$39.99
Unit price
per
Couldn't load pickup availability
𝐄𝐱𝐩𝐞𝐜𝐭𝐞𝐝 𝐝𝐞𝐥𝐢𝐯𝐞𝐫𝐲: 𝟓-𝟕 𝐝𝐚𝐲𝐬 𝐟𝐫𝐨𝐦 𝐨𝐫𝐝𝐞𝐫 𝐜𝐨𝐧𝐟𝐢𝐫𝐦𝐚𝐭𝐢𝐨𝐧 𝐝𝐚𝐭𝐞
🚚 𝙁𝙧𝙚𝙚 𝙨𝙝𝙞𝙥𝙥𝙞𝙣𝙜 𝙤𝙣 𝙤𝙧𝙙𝙚𝙧𝙨 𝙤𝙫𝙚𝙧 59𝙐𝙎𝘿
---
Availability:
90 in stock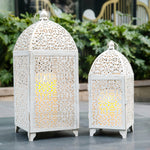 Regular price
Sale price
$39.99
JHY DESIGN's Set of Vintage Hanging Decorative Candle Lanterns: Harmony of Elegance and Resilience

Renowned for bringing unmatched elegance and innovative designs to the world of décor, JHY DESIGN is a name synonymous with superior quality lighting and home decoration solutions. In the extensive portfolio of JHY DESIGN, our outdoor lanterns, including the unique battery lamps, ethereal decorative items, and exquisite furniture, are stars that shine the brightest. They are crafted to perfection, blending timeless beauty with impeccable functionality, making every piece a testament to our dedication to design excellence and customer satisfaction.

Unparalleled Elegance of Outdoor Lanterns
In the diverse and rich tapestry of decorative lighting, JHY DESIGN's Set of Vintage Hanging Decorative Led Candle Lanterns emerge as the epitome of grace and timeless elegance. These lanterns are meticulously designed to add a majestic touch to various spaces, be it the serene environment of garden gatherings or the intimate and romantic aura of outdoor wedding ceremonies. Explore the captivating world of our outdoor lanterns and experience the magic and transformative power of delicate light.

Diverse Applications: Elevate Every Scenario

Elevated Garden Ambience

Our outdoor hanging lanterns cast a warm and inviting glow, creating an enchanting atmosphere and highlighting the beauty of the gardens.
The lanterns' classic appeal enhances the aesthetic charm, making them a perfect companion for serene evening contemplation.
Romantic Wedding Atmosphere

As charming centerpieces, these lanterns illuminate wedding tables with soft and romantic light, making every moment even more special.
Their delicate combination of metal and glass brings a dash of vintage sophistication, adding to the overall elegance of wedding decor.
Enhanced Patio Experience

Transform your patio spaces with the warm light of our lanterns, setting the tone for relaxed and cozy gatherings.
Crafted with durable metal, these lanterns are reliable lighting options, enhancing the safety and appeal of outdoor spaces.
Perfectly suited to light up every walkway, guiding steps safely during the evening gatherings.
Sophisticated Indoor Décor

While designed primarily for outdoor settings, these lanterns seamlessly blend with indoor spaces, enriching them with their elegant presence.
Position them on tables, shelves or any suitable space, and watch them bring a touch of vintage elegance to the interiors.
Product Excellence and Features
The Set of Vintage Hanging Decorative Candle Lanterns are presented in two distinct sizes, 12" and 16.5" high, reflecting a seamless blend of traditional charm and modern aesthetics. The robust metal framework, paired with pristine glass panes, signifies JHY DESIGN's commitment to long-lasting quality and refined style. These are not just decorative elements; they are a beautiful symbiosis of art and practicality, illuminating spaces with their subtle and graceful light.

Illuminate with JHY DESIGN
JHY DESIGN is not just a brand; it is a pledge to quality, elegance, and enduring beauty. Our Christmas lantern , especially the Vintage Hanging Decorative Led Candle Lanterns, are the embodiments of our unwavering dedication to design superiority and quality. Choose JHY DESIGN, and let the graceful elegance of our creations illuminate your world with unmatched style and sophistication.

-20%

Regular price

$34.99

-21%

Sale price

$27.99
Choosing a selection results in a full page refresh.