By

JHY DESIGN
11.4"H Tabletop Fire Bowl Pot Portable Tabletop Fireplace
Regular price
Sale price
$27.99
Unit price
per
Couldn't load pickup availability
Availability:
Low stock: 10 left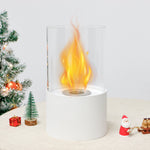 Regular price
Sale price
$27.99
Ignite Elegance with JHY DESIGN's 11.4"H Tabletop Fire Bowl Pot: A Modern Masterpiece
Experience the epitome of fireplace decor with our 11.4"H Tabletop Fire Bowl Pot – a stunning creation by JHY DESIGN. Meticulously crafted from a blend of premium materials, including metal, stainless steel, and tempered glass, this portable tabletop fireplace is more than just a source of warmth; it's a statement piece that elevates your space.

Portable Tabletop Fireplace
*Material: Metal, stainless steel &Tempered glass
*Product Size: 5'' x 5'' x 10'' H
*Color:White sand color metal, silver stainless steel, clear tempered glass
*Metal Structure: Strong and durable
Material Mastery: A Fusion of Art and Functionality

Step into a realm of design excellence where white sand color metal, silver stainless steel, and clear tempered glass converge in perfect harmony. Our tabletop fire bowl pot is a testament to the artful fusion of materials, creating a visual symphony that enhances the aesthetics of any indoor setting
Perfect Dimensions for Perfect Ambiance: Unveiling the Compact Brilliance

Unveil the compact brilliance of our tabletop masterpiece, with dimensions measuring 5'' x 5'' x 10'' H. This perfectly sized fire bowl pot is designed to fit seamlessly into your decor, offering a captivating focal point that radiates modern elegance.
Color Palette of Distinction: Elevate Your Space with Style

Immerse yourself in a color palette of distinction – white sand color metal, silver stainless steel, and clear tempered glass. This harmonious combination elevates your space with a touch of sophistication, making our bio ethanol fireplace a captivating addition to your modern decor.
Modern Fireplace Elegance:Embark on a journey with JHY DESIGN, where modern fireplace design meets timeless elegance. Our commitment to innovation and aesthetics is embodied in every detail of the 11.4"H Tabletop Fire Bowl Pot, offering you a sophisticated and functional piece that reflects your refined taste.
Sustainable Warmth:Illuminate your space with the sustainable warmth of bio ethanol. Our tabletop fire bowl pot operates with eco-friendly efficiency, providing a real fire experience without the constraints of traditional wood fireplaces. Embrace the future of fireplace design with JHY DESIGN.
Versatile Brilliance:Transform your space effortlessly as our tabletop fire bowl pot seamlessly transitions from decor element to entertainment centerpiece. It's not just a source of warmth; it's a dynamic addition to your lifestyle, ready to captivate guests at gatherings or provide a cozy ambiance for quiet evenings.
Proper Ethanol Usage for Extended Charm

Utilize 130ml of ethanol to fill the tabletop fireplace, providing approximately 1 hour of enchanting lights for your space. This careful measure ensures both efficiency and safety.
Prioritize safety by refraining from smoking while filling the fuel pot. This simple yet crucial measure minimizes potential risks associated with open flames and ethanol usage.

As an added precaution when dealing with open flames, always have a readily accessible fire extinguisher nearby. This extra layer of protection ensures prompt response to any unforeseen circumstances.

Safeguard your tabletop fireplace by using only approved liquid ethanol. Avoid substituting with other combustibles, such as bio-ethanol car fuel, to maintain the integrity of the appliance and uphold safety standards.

Clearly define the purpose of the tabletop fireplace; refrain from using it to cook food or heat water. This ensures the appliance is used as intended, minimizing potential risks associated with alternative uses.

Prioritize safety by refraining from moving the fireplace while it's lit. This precautionary measure minimizes the risk of accidents and ensures a stable environment during operation.

Emphasize the importance of constant supervision. Never leave the lit fireplace unattended, reducing the risk of accidents and ensuring a safe, controlled environment.

Clarify that there's no need to remove the white fiberglass used for absorbing ethanol. This material serves a safety purpose and should be left intact for proper functioning.

Encourage users to keep the tabletop fireplace away from flammable objects as much as possible. Maintaining safe distances enhances overall safety and reduces the risk of accidental fires.

Reinforce the purpose of the fireplace by discouraging the preparation of food over the flames. This safety measure ensures that the appliance is used exclusively for creating a cozy ambiance.

JHY DESIGN's 11.4"H Tabletop Fire Bowl Pot,this modern masterpiece transcends the ordinary, redefining the essence of fireplace decor. Make a statement, embrace warmth, and let JHY DESIGN be the signature of your refined living space.
Regular price

Sale price

$34.99
Choosing a selection results in a full page refresh.
Your cart
Recommendations