Regular price
Sale price
$25.99
Unit price
per
Couldn't load pickup availability
𝐄𝐱𝐩𝐞𝐜𝐭𝐞𝐝 𝐝𝐞𝐥𝐢𝐯𝐞𝐫𝐲: 𝟓-𝟕 𝐝𝐚𝐲𝐬 𝐟𝐫𝐨𝐦 𝐨𝐫𝐝𝐞𝐫 𝐜𝐨𝐧𝐟𝐢𝐫𝐦𝐚𝐭𝐢𝐨𝐧 𝐝𝐚𝐭𝐞
🚚 𝙁𝙧𝙚𝙚 𝙨𝙝𝙞𝙥𝙥𝙞𝙣𝙜 𝙤𝙣 𝙤𝙧𝙙𝙚𝙧𝙨 𝙤𝙫𝙚𝙧 59𝙐𝙎𝘿
---
Availability:
20 in stock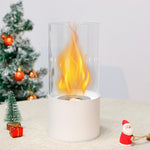 Regular price
Sale price
$25.99
White
Elevate your space with JHY DESIGN's 10"H Indoor/Outdoor Portable Tabletop
Step into the world of sophisticated warmth with JHY DESIGN's JHY DESIGN's 10"H  Portable Tabletop Fireplace Indoor/Outdoor – a true embodiment of contemporary fireplace design. Meticulously crafted from a fusion of high-quality materials, including metal, stainless steel, and tempered glass, this tabletop fire bowl pot is a captivating blend of elegance and functionality.
Indoor/Outdoor Portable Tabletop
*Material: Metal, stainless steel &Tempered glass
*Product Size: 6.5"x 6 .5" x 11.5"
*Color: White sand color metal, silver stainless steel, clear tempered glass
*Metal Structure: Strong and durable
A SIMPLE AND ELEGANT APPEARANCE FIRE PIT , with no ash or smoke, you can put it anywhere, perfect for your patio, living room, dinning room etc.
CLASSICAL AND DECENT DECORATIVE Crafted of metal, stainless steel and clear glass, along with the attractive dancing flame, add a sumptuous touch to your home.
Material Magic:Dive deep into the enchanting interplay of materials that characterizes our tabletop fire bowl pot. The choreography of white sand color metal, silver stainless steel, and clear tempered glass creates a visual symphony, transforming any space into a haven of modernity and style.
Perfect Proportions:Delve into the meticulous design details that define this tabletop wonder. With dimensions measuring 6.5"x 6.5" x 11.5", its compact yet impactful presence effortlessly becomes the focal point of any indoor or outdoor setting, promising a visual treat for admirers.
Color Palette Elegance:Experience the elevated aesthetics brought forth by the carefully chosen color palette. The combination of white sand color metal, silver stainless steel, and clear tempered glass elevates the visual appeal, introducing a touch of sophistication that resonates with contemporary design sensibilities.
Built to Last:Beyond its visual allure, the metal structure of our tabletop fire bowl pot stands as a testament to strength and durability. This isn't just a decorative piece; it's a resilient investment in style and warmth, promising to withstand the test of time.
Experience the Future of Fireplace Design
Modern Fireplace Magic
Immerse yourself in the transformative ambiance of a modern fireplace. The clean lines and contemporary elements of our design redefine the traditional fireplace, making a bold statement that seamlessly integrates with any decor style.

Fireplace Redefined
Embrace the evolution of fireplace design with our tabletop fire bowl pot. It's not merely a source of warmth; it's a design masterpiece that breathes life into your space. Let the flickering flames create an atmosphere that captivates and inspires.

Bio Ethanol Brilliance
Fueling the flames of innovation, our bio ethanol fireplace operates on bio ethanol. Experience the warmth and beauty of a real fire without the constraints of wood or the limitations of traditional fireplaces. It's an eco-friendly, efficient, and effortlessly chic solution.

Create Your Oasis
Indoor or Outdoor Delight:
Indulge in the versatility of our tabletop fire bowl pot. Whether it graces your living room or enhances your outdoor retreat, its portability allows you to effortlessly transition from the cozy indoors to the refreshing ambiance of your patio.
Captivate with Flames
Watch as the flames dance behind the clear tempered glass, creating a mesmerizing display. The interplay of materials and the play of light make every moment spent by the fire an artistic experience, elevating your space to new heights.
Elevate your space with JHY DESIGN's 10"H Indoor/Outdoor Portable Tabletop – a symphony of modern fireplace design, durability, and eco-friendly brilliance. It's not just a product; it's a lifestyle statement. Ignite your style and embrace the warmth today.
-20%

Regular price

$34.99

-21%

Sale price

$27.99
Choosing a selection results in a full page refresh.