Regular price
Sale price
$25.99
Unit price
per
Couldn't load pickup availability
𝐄𝐱𝐩𝐞𝐜𝐭𝐞𝐝 𝐝𝐞𝐥𝐢𝐯𝐞𝐫𝐲: 𝟓-𝟕 𝐝𝐚𝐲𝐬 𝐟𝐫𝐨𝐦 𝐨𝐫𝐝𝐞𝐫 𝐜𝐨𝐧𝐟𝐢𝐫𝐦𝐚𝐭𝐢𝐨𝐧 𝐝𝐚𝐭𝐞
🚚 𝙁𝙧𝙚𝙚 𝙨𝙝𝙞𝙥𝙥𝙞𝙣𝙜 𝙤𝙣 𝙤𝙧𝙙𝙚𝙧𝙨 𝙤𝙫𝙚𝙧 59𝙐𝙎𝘿
---
Availability:
99 in stock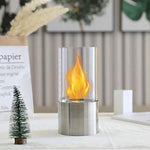 Regular price
Sale price
$25.99
Silver
Creative Fireplace Craftsmanship: Contemporary Elegance

Welcome to the innovative realm of JHY DESIGN's Tabletop Fire Bowl Pot, a harmonious blend of aesthetic allure and advanced technology. This tabletop fireplace, made with silver stainless steel and clear tempered glass, stands as a symbol of elegant design, measuring a convenient 5"x 5"x10", making it the visual focal point in any space.
 
Superior Heat Output: Bio-Ethanol Fireplace
Constructed from premium stainless steel and tempered glass, this fireplace demonstrates superior resistance to high temperatures, ensuring sustained durability and performance. Its refined structure promises long-lasting warmth and aesthetic appeal.

Multifunctional Charm for Diverse Environments: Atmosphere Creator
The unique and sophisticated design of this indoor fireplace, paired with its excellent heat output, make it a perfect addition to various settings. Its contemporary charm and efficient heat dispersion enrich both indoor and outdoor spaces with a touch of modern elegance.

Safe and Smooth Fireplace Experience: Reliability and Convenience
Safety is a top priority at JHY DESIGN, and this fireplace offers a secure source of warmth. It operates on clean-burning bio-ethanol, providing a ventless experience, allowing you to savor the comforting ambiance of its flames with peace of mind.


Enduring Craftsmanship: Sophisticated Durability
With a focus on precise craftsmanship, this christmas fireplace exemplifies artistic resilience. The robust stainless steel and tempered glass ensure lasting durability and continuous functionality, highlighting its sculptural grace and promising timeless sophistication and reliable operation.


Easy Maintenance and Use:
Utilize the fireplace in secure, stable surroundings, away from combustible materials.
Maintain vigilance when the fireplace is in use and keep a fire extinguisher within reach for optimal safety.
Regular cleaning and maintenance are essential to preserve its aesthetic appeal and operational efficiency.
Conclusion
JHY DESIGN's Tabletop Fire Bowl Pot is a masterful amalgamation of style and utility, presenting an eye-catching design and exceptional heat resilience. Its compact and portable nature, coupled with its silver stainless steel and clear glass construction, make it a flexible option for a variety of environments, enabling you to relish its contemporary elegance and warmth wherever you prefer. With its premium materials, clean-burning bio-ethanol fuel, and meticulous craftsmanship, this fireplace ensures a combination of visual enchantment and dependable functionality for years to come.

-20%

Regular price

$34.99

-21%

Sale price

$27.99
Choosing a selection results in a full page refresh.