By

JHY DESIGN
JHY DESIGN 59"H USB Three-stop Light Source Touch Magnetic Floor Lamp for Living Room(White)
Regular price
Sale price
$69.99
Unit price
per
Couldn't load pickup availability
Availability:
Low stock: 10 left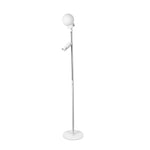 Regular price
Sale price
$69.99
Illuminate Your Living Space with JHY DESIGN's 59"H White Magnetic Floor Lamp
In a realm where modern design meets daily convenience, JHY DESIGN introduces its innovative 59"H White Magnetic Floor Lamp. This masterpiece, merging a sleek aesthetic with functional brilliance, stands as an iconic floor lamp for living rooms, offices, and contemporary lounges. It's not just a light fixture; it's a modern lamp that redefines the concept of living room lamps with its state-of-the-art features and elegant design.
59"H White Magnetic Floor Lamp by JHY DESIGN
Material: High-grade Aluminum and Iron
Size: 9''L x 9''W x 59"H
Color: Radiant White
Features of the JHY DESIGN 59"H White Magnetic Floor Lamp
Contemporary Elegance: This floor lamp boasts a pristine white color, enhancing any living room with its clean and modern look. The sleek design makes it an ideal complement to various interior styles, adding a touch of contemporary elegance to your living space.
Innovative Lighting: Equipped with a touch-sensitive feature for three levels of monochromatic light adjustment, this lamp offers versatility and convenience. Whether you're setting a mood for a quiet evening or need bright light for working, this lamp provides the perfect ambiance.
Magnetic Versatility: The lamp's most unique feature is its magnetically attached bulb, which can be easily adjusted to direct light wherever it's needed. This innovative design not only adds to the lamp's functionality but also introduces a playful element in adjusting and positioning the light source.
USB Functionality: With a built-in USB interface, this lamp goes beyond illumination. It caters to the modern need to stay connected, allowing you to charge devices directly from the lamp, making it a multifunctional addition to your living room.
JHY DESIGN's 59"H White Magnetic Floor Lamp: A Fusion of Style and Utility
Adaptive Illumination: Ideal for any setting, this lamp can transform the ambiance of your living room, making it perfect for a variety of occasions. It seamlessly adapts to your lighting needs, ensuring your space is always lit to your liking.
Modern Aesthetics: As a modern lamp, it stands as a testament to contemporary design, fitting effortlessly into a minimalist décor or acting as a standout piece in a more traditional setting.
Practical Elegance: This lamp combines the practicality of adjustable lighting and device charging with the elegance of modern design. It's not just an illumination tool but a statement piece that elevates the style quotient of your living space.
JHY DESIGN Floor Lamps: Illuminating Modern Lifestyles
Versatile Function: As a floor lamp for living rooms, it offers the perfect blend of ambiance and functionality, suitable for a variety of activities from reading to hosting.
Conversation Starter: Its unique magnetic and touch features make this lamp a point of interest in any room, sparking curiosity and admiration from guests.
Seamless Integration: Whether placed next to a cozy armchair or in a reading corner, this lamp integrates seamlessly into your living space, providing both light and style.
The 59"H White Magnetic Floor Lamp by JHY DESIGN is more than just a lighting solution; it's a piece that brings together the best of modern design, functionality, and style. Illuminate your living room with this exquisite lamp and experience the perfect harmony of light and design in your everyday life.
Regular price

Sale price

$34.99
Choosing a selection results in a full page refresh.
Your cart
Recommendations