Regular price
Sale price
$29.99
Unit price
per
Couldn't load pickup availability
𝐄𝐱𝐩𝐞𝐜𝐭𝐞𝐝 𝐝𝐞𝐥𝐢𝐯𝐞𝐫𝐲: 𝟓-𝟕 𝐝𝐚𝐲𝐬 𝐟𝐫𝐨𝐦 𝐨𝐫𝐝𝐞𝐫 𝐜𝐨𝐧𝐟𝐢𝐫𝐦𝐚𝐭𝐢𝐨𝐧 𝐝𝐚𝐭𝐞
🚚 𝙁𝙧𝙚𝙚 𝙨𝙝𝙞𝙥𝙥𝙞𝙣𝙜 𝙤𝙣 𝙤𝙧𝙙𝙚𝙧𝙨 𝙤𝙫𝙚𝙧 59𝙐𝙎𝘿
---
Availability:
20 in stock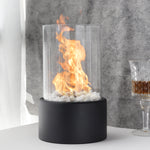 Regular price
Sale price
$29.99
Black
JHY DESIGN 10.5" H Portable Tabletop Fireplace - Elevate Your Space
Introducing the JHY DESIGN 10.5" H Portable Tabletop Fireplace, a versatile and elegant addition to your home decor collection. This exceptional piece combines the beauty of modern design with practicality and portability, offering a unique way to create a warm and inviting atmosphere indoors or outdoors.

Material: Metal, Stainless Steel, Tempered Glass, Rock, Silicone Gloves
Product Dimensions: 6''L x 6''W x 10.5''H
Colors: Black Sand Metal, Stainless Steel, Clear Tempered Glass, and White Rock
Metal Construction: Sturdy and Durable
A SIMPLE AND ELEGANT APPEARANCE FIRE PIT , with no ash or smoke, you can put it anywhere, perfect for your patio, living room, dinning room etc.
CLASSICAL AND DECENT DECORATIVE Crafted of metal, stainless steel and clear glass, along with the attractive dancing flame, add a sumptuous touch to your home.
Premium Materials for Durability: Crafted with meticulous attention to detail, our tabletop fireplace boasts a construction of premium materials. The metal base provides robust support, ensuring stability, while the stainless steel burner ensures longevity and corrosion resistance. The clear tempered glass panels offer an unobstructed view of the mesmerizing flames, and the white rocks provide a natural and stylish finishing touch. For added convenience, we've included silicone gloves to ensure safe handling.
Sleek and Contemporary Design: At JHY DESIGN, we take pride in our reputation for modern elegance. This tabletop fire pit reflects that commitment, featuring a sleek and contemporary design that seamlessly integrates with any interior or outdoor decor. Choose from an array of sophisticated colors to match your style, including Black Sand Metal for a bold statement, Stainless Steel for timeless appeal, Clear Tempered Glass for a minimalistic look, or White Rock for a touch of natural charm.

Compact and Portable: Measuring a convenient 6''L x 6''W x 10.5''H, our bio ethanol fireplace is compact and easy to move, making it the ideal companion for various settings. Whether you want to add a cozy touch to your patio, enjoy a romantic dinner indoors, or relax with friends in the backyard, this portable fireplace delivers a warm and inviting ambiance wherever you go. Its compact size also makes it suitable for apartments and small living spaces.

Clean-Burning Bio Ethanol: Experience the magic of real flames without the hassle of traditional firewood. Our tabletop fire pit utilizes bio ethanol fuel, a clean-burning and eco-friendly alternative. This fuel option not only produces a beautiful, dancing flame but also eliminates the need for a chimney or vent. Enjoy the warmth and ambiance without the smoke or soot.

Setting Up Your JHY DESIGN Portable Tabletop Fireplace
When it comes to assembly and use, our JHY DESIGN Portable Tabletop Fireplace is designed with simplicity in mind. With straightforward instructions, you'll have this elegant modern fireplace up and running in no time. It's all about creating memorable moments with family and friends, hassle-free.
JHY Designed Fireplace With Multiple Placement Options
The compact size of our tabletop fireplace opens up endless possibilities for placement. Whether it's adorning your dining table as a captivating centerpiece during meals or adding warmth to your coffee table for cozy evenings while watching TV, the possibilities are as diverse as your imagination. Out on the patio or balcony, it becomes the focal point of outdoor gatherings, casting a warm and welcoming light.
The Thoughtful Design of Your JHY DESIGN Fireplace
At JHY DESIGN, safety is a top priority. We've meticulously designed our Portable Tabletop Fireplace with your well-being in mind. The sturdy metal base ensures stability during use, while the clear tempered glass panels provide a protective barrier between the flames and your surroundings. Additionally, we've included silicone gloves, making handling the unit both safe and convenient.
JHY DESIGN - Your Trusted Home Decor Partner:For years, JHY DESIGN has consistently delivered high-quality, stylish home decor solutions that have earned us a sterling reputation in the industry. Our unwavering commitment to excellence extends to each and every product we offer, and our 10.5" H Portable Tabletop Fireplace is no exception.
-20%

Regular price

$34.99

-21%

Sale price

$27.99
Choosing a selection results in a full page refresh.