Regular price
Sale price
$35.99
Unit price
per
Couldn't load pickup availability
Availability:
30 in stock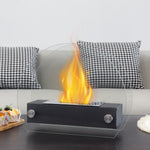 Regular price
Sale price
$35.99
Elevating Fireplace Essence: JHY DESIGN's 4"x14"x11" Fire-Burning Fireplace
Welcome to a new dimension of aesthetic warmth with JHY DESIGN's 4"x14"x11" Fire-Burning Fireplace. This transformative and compact masterpiece breathes a wave of cozy elegance into both your indoor and outdoor living spaces, setting a new benchmark in the domain of fireplace artistry and innovation.

Sustainable Radiance: Advanced Bioethanol Fireplace Innovation
Embedded in our commitment to environmental harmony, JHY DESIGN unveils this luxurious fireplace, characterized by its avant-garde bioethanol fuel technology. This eco-friendly solution radiates a captivating allure of real, pollution-free flames, providing a rejuvenating and pure fireplace experience, free from the drawbacks of traditional fire-burning options.

Unrestricted Ambiance: The Revolutionary Ventless Fireplace
Embrace the limitless possibilities of fireplace placement with our groundbreaking ventless model. This unparalleled piece eradicates the necessity for chimneys or extensive modifications, disseminating its warm aura and distinguished elegance across diverse spaces, catering to a multitude of aesthetic and spatial desires.

Visual Symphony: Aesthetic Excellence in Fireplace Design
Our 4"x14"x11" Fire-Burning Fireplace transcends being merely a source of comfort; it's a manifestation of aesthetic brilliance, amalgamating clear glass and modern design nuances. The consequent visual resonance enhances any décor style, positioning the fireplace as an enchanting and elegant focal point radiating contemporary elegance.

Emphasis on Safety: Protected and Reliable Fireplace Enjoyment
JHY DESIGN is synonymous with safety. This Fire-Burning Fireplace is fortified with essential safety enhancements including a dedicated extinguishing feature and a protective enclosure, delivering a serene and secure fireplace ambiance for all.

Lasting Sophistication: Durable and Aesthetic Fireplace Construction
Combining the strength of robust metal and the clarity of premium tempered glass, this fireplace pledges lasting allure and sturdiness. It gracefully withstands high temperatures, offering a crystal-clear, splendid view of the vibrant flames, enveloping your space in its timeless charm and luminosity.
Proportional Elegance: Harmoniously Designed Fireplace
With its meticulous dimensions and sophisticated silhouette, this fireplace emerges as a stylish yet unobtrusive addition, spreading its welcoming glow and modern charm throughout various environments, immersing every room in its warm embrace.


Installation & Safety Instructions:
Place stably and away from combustibles.
Suited for diverse environments, both indoors and outdoors.
Use only authorized ethanol and ensure a fire extinguisher is accessible.
Avoid leaving the fireplace unmonitored when it is active.
JHY DESIGN's 4"x14"x11" Fire-Burning Fireplace represents a culmination of elegant innovation, assured safety, and environmentally friendly luxury, converting your spaces into abodes of warm sophistication and inviting elegance.
Regular price

Sale price

$29.99
Choosing a selection results in a full page refresh.
Your cart
Recommendations