Regular price
$24.69
Sale price
$22.99
Unit price
per
-$1.70
Couldn't load pickup availability
Availability:
Low stock: 3 left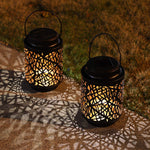 Regular price
$24.69
Sale price
$22.99
JHY DESIGN: A Symphony of Sustainable Elegance with Outdoor Solar Lanterns

Renowned for its harmonious blend of elegance and utility, JHY DESIGN is a distinguished creator of top-tier lighting and home decor solutions. Our extensive collection showcases diverse pieces including battery lamps, outdoor solar lanterns, electronic candle lights, and a plethora of decorative gems and furniture. Every creation under the JHY DESIGN umbrella is a manifestation of our devotion to outstanding design, relentless functionality, and ultimate customer delight. When you choose our products, you are investing in a timeless legacy of exceptional quality and aesthetic charm.

Outdoor Solar Lanterns: A Beacon of Ecological Elegance and Timeless Charm

JHY DESIGN's hanging Lanterns are quintessential examples of enduring allure and eco-friendly elegance. These solar lanterns are meticulously designed to be the focal points in multiple settings, bathing gardens, and outdoor celebrations in their enchanting light. Immerse yourself in the alluring realm of our Outdoor Solar Lanterns and embrace the transformative power of eco-conscious illumination.

Varied Applications of JHY DESIGN's Outdoor Solar Lanterns

Garden Enchantment

Arrange JHY DESIGN's Lanterns thoughtfully around your garden, emanating a warm and welcoming light.
Employ these solar lanterns to spotlight distinctive garden elements, establishing a visually striking panorama at dusk.
The eco-conscious design of these lanterns aligns seamlessly with the bucolic beauty of gardens, setting a tranquil tone for relaxation.
Nuptial Elegance

Serving as beguiling centerpieces at outdoor weddings, these Outdoor Solar Lanterns radiate a love-filled glow, transforming every environment.
Dangle them from branches or line them along walkways, lighting the way for guests with their delicate, sustainable illumination.
The amalgamation of metal and solar-powered light lends a retro elegance to matrimonial celebrations.
Balcony and Patio Brilliance

Enrich your patios and balconies with our Decorative Candle Lanterns, creating a snug atmosphere for twilight gatherings.
Their robust metal framework assures durability and steadfastness, making them an enduring lighting companion for outdoor assemblies.
Light up paths and guarantee safe nocturnal navigation with the eco-friendly glow of these lanterns.
Interior Sophistication

While primarily conceptualized for outdoor environments, the adaptability of these lanterns enhances indoor settings as well.
Position them strategically on shelves, tables, or mantels, adding a layer of sophistication to your interior spaces.
Their sustainable glow harmonizes effortlessly with varied home decors, from classic to contemporary.
Product Characteristics and Features
JHY DESIGN's 2-Pack Christmas Lanterns are not mere lighting fixtures; they represent the unity of aesthetic grace and green technology. Featuring a distinctive hollow branch design and metallic build, these lanterns present an environmentally friendly lighting solution. Whether suspended in gardens, displayed on tables, or serving as event centerpieces, they draw every eye. Equipped with handles, these solar lanterns offer versatility for diverse landscapes, parks, and outdoor spaces. Entrusted with JHY DESIGN's seal of quality, these lanterns promise longevity and illumination with ecological elegance.

Embrace Sustainability with JHY DESIGN
JHY DESIGN is not just a brand; it's a pledge to quality, aesthetic brilliance, and sustainable living. Our Camping Lanterns epitomize our unwavering commitment to delivering unparalleled elegance and practical functionality. Choose JHY DESIGN's Outdoor Solar Lanterns and let every nook and cranny of your world revel in sustainable elegance and radiant splendor.
Regular price

Sale price

$34.99
Choosing a selection results in a full page refresh.
Your cart
Recommendations