Regular price
Sale price
$19.99
Unit price
per
Couldn't load pickup availability
Availability:
Low stock: 10 left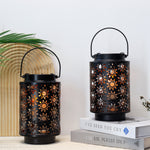 Regular price
Sale price
$19.99
JHY DESIGN's Outdoor Solar Lanterns: A Glimmer of Sustainable Elegance

JHY DESIGN, a leading name in innovative lighting solutions and home décor, is proud to present our collection of outdoor solar lanterns, blending unparalleled quality with sustainable illumination. We specialize in a wide spectrum of products including battery lamps, alcohol lamps, and unique furniture pieces, each echoing our commitment to design integrity, practicality, and client contentment. Choosing JHY DESIGN is a step into a world where elegance meets sustainability.

Outdoor Solar Lanterns: A Symphony of Ethereal Brilliance

JHY DESIGN's outdoor wall lanterns are icons of refined and environmentally friendly lighting. Specifically designed to be a centerpiece, they bring an aura of enchantment to diverse setups, transforming garden soirées and outdoor weddings into ethereal realms. Explore the eco-conscious illumination of JHY DESIGN's Outdoor Solar Lanterns and experience the harmonious dance of light and shadows.

The Versatility of JHY DESIGN's Outdoor Solar Lanterns

Garden Illumination

Strategically place these christmas lantern decor to cast an inviting and eco-friendly glow, accentuating the serene beauty of gardens and parks.
The elegant design of these lanterns with a metal structure and flower pattern complements nature, making them an ideal choice for eco-conscious consumers.
Romantic Weddings

Enrich your wedding décor with these sustainable lanterns, serving as beautiful and responsible centerpieces.
Hanging them from trees or placing them alongside pathways not only illuminates the surroundings with a soft, ambient light but also adds a celestial charm to the entire venue.
Patio and Porch Elegance

Elevate your outdoor spaces with these outdoor lanterns, promising longevity and reliability, ideal for eco-friendly illumination.
Whether lining pathways or enhancing your relaxing spaces, they bring a gentle, sustainable glow, ensuring every evening is bathed in resplendent light.
Indoor Enchantment

While designed primarily for outdoor use, their versatile charm and sustainable feature can also enhance the aesthetic of indoor spaces.
Position them on tables, shelves, or any spot that needs a touch of brilliance, and witness a harmonious blend with various interior styles.
Product Description and Features

Introducing the 2-Pack Solar Lantern Lights from JHY DESIGN. These outdoor solar lanterns, with their stunning flower pattern design, are not just lanterns; they are a beacon of sustainable and elegant lighting. Powered by solar energy, these metal lanterns with handles bring a celestial aura to patios, gardens, walkways, and parks. With JHY DESIGN's assurance of quality and sustainability, these lanterns are a shining example of our dedication to eco-friendly design.
Illuminate Your World Sustainably with JHY DESIGN

JHY DESIGN is synonymous with quality, elegance, and eco-friendly design. Our decorative lanterns, including the breathtaking 2-Pack Solar Lantern Lights, are a reflection of our commitment to sustainable brilliance. Immerse in the world of JHY DESIGN and let your spaces gleam with sustainable elegance and ethereal light.

Regular price

Sale price

$29.99
Choosing a selection results in a full page refresh.
Your cart
Recommendations