By

JHY DESIGN
19'' & 13.5'' & 9.5''H Vintage Metal Candle Holder Decorative Hanging Lantern (Set of 3)
Regular price
Sale price
$86.99
Unit price
per
Couldn't load pickup availability
Availability:
50 in stock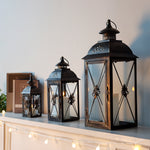 Regular price
Sale price
$86.99
JHY DESIGN's Array of Vintage Metal Candle Holder Lanterns: A Pinnacle of Artistic Elegance and Practical Illumination

JHY DESIGN, with its reputation as a distinguished creator of illumination and home decor solutions, continues to be a beacon of inspiration and quality in the world of design. We pride ourselves on our wide-ranging collection that includes state-of-the-art outdoor lanterns, innovative battery lamps, enchanting furniture, and whimsical decorative pieces, each reflecting our unwavering dedication to design excellence and customer satisfaction. Our Set of 3 Vintage Metal Candle Holder Lanterns is a remarkable illustration of our commitment to intertwining timeless elegance with practical functionality.

Outdoor Lanterns: A Symphony of Vintage Charm and Timeless Grace

Embodied in every piece of JHY DESIGN's Outdoor Lanterns is a soul of timeless beauty and classical elegance. These lanterns, with their gentle, inviting glow, are meticulously crafted to be the focal point in varied settings, from tranquil garden gatherings to enchanting outdoor weddings, bringing an air of nostalgia and warmth to any occasion.
Discover the breathtaking world of JHY DESIGN's Outdoor Lanterns and be mesmerized by the enchanting play of light and shadows, witnessing the transformation of every space into a scene from a timeless tale.

Versatile Applications in Diverse Environments

With the strategic positioning of our Hanging Lanterns, gardens come to life under the subtle, warm glow, creating an unforgettable atmosphere.
The harmonious blend of vintage design with natural surroundings transforms every moment into a picturesque experience, inviting you to lose yourself in nature's embrace.

The lanterns, with their harmonious blend of metal and clear glass, are the epitome of romance, serving as mesmerizing centerpieces at weddings and exuding a subtle, yet captivating glow.
Every detail, from the flicker of the candle to the intricate design, speaks volumes about the aesthetic richness and the old-world charm they bring to the celebratory decor.

Patio Charm & Indoor Elegance
Illuminate patios and indoor spaces alike with the multifaceted charm of our  Camping Lantern , creating realms of serenity and warmth for evening rendezvous.
Their impeccable design makes them a seamless fit for various decorative themes, be it rustic, contemporary, or anything in between.

Their versatile elegance makes these lanterns an aesthetic enhancement for any indoor space, enriching the ambiance with their vintage allure.
Be it on shelves, tables, or mantelpieces, their presence is a gentle reminder of the beauty of subtlety and the elegance of simplicity.

Unparalleled Craftsmanship and Quality

The Set of 3 Vintage Metal Lanterns from JHY DESIGN are not merely functional items; they are a dance of light and shadow, a symphony of art and functionality. The varying heights of 19", 13.5", and 9.5" make them versatile for both individual display and grouped arrangements, bringing a unique charm to every setting they grace.

Lighting up Lives with JHY DESIGN

Choosing JHY DESIGN means embracing a world of unparalleled elegance, innovative design, and exceptional quality. Our christmas lantern, especially the Set of 3 Vintage Metal Candle Holder Lanterns, are not just decorative pieces; they are timeless treasures that illuminate lives with their radiant glow and artistic grace.


Regular price

Sale price

$34.99
Choosing a selection results in a full page refresh.
Your cart
Recommendations