Regular price
Sale price
$89.00
Unit price
per
Couldn't load pickup availability
Availability:
Low stock: 10 left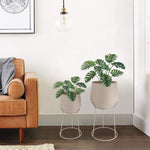 Regular price
Sale price
$89.00
JHY DESIGN Modern Iron Tripod Planters - Set of 2, Matte Finish with Sturdy Metal Stands
This is a set of two cylindrical flower pots, each finished in a matte beige or light taupe color and placed on slender tripod metal stands. The design of the pots is minimalist and modern, with smooth surfaces and no visible seams, and the top tapers slightly inwards. The stands are composed of three thin metal legs, which connect at the base and just below the pot, forming a stable structure.
Versatile and Stylish Flower Pots
Our flower pots are designed with versatility in mind. Whether you're looking to add some flair to your garden flower pot collection or searching for a chic indoor flower pot stand, these planters are the ideal choice. Their modern flower pot design is a seamless fit for any decor theme, ensuring your plants receive the spotlight they deserve.
Durable Metal Flower Pots
Quality is at the heart of JHY DESIGN, and these metal flower pots are no exception. Made from high-grade iron, they promise durability and strength, making them a reliable choice as flower pots outdoor as well as indoors. The robust construction ensures that your plants are safely cradled, whether you're dealing with a breezy balcony or a tranquil living room.
Large Flower Pot for All Plant Types
Size matters when it comes to planters, and our large flower pot design provides ample space for your green friends to flourish. With generous dimensions, our planters can accommodate a variety of plant species, from towering palms to delicate ferns, ensuring they have the room they need to grow.
Sleek Indoor Flower Pot Stand
The elegance of our indoor flower pot stand lies in its minimalist tripod design. The sleek, clean lines of the stand make it a subtle yet striking addition to any interior space. It's not just a flower pot; it's a statement piece that elevates your plant display to an art form.
Outdoor Elegance with Flower Pots Outdoor
Bring a modern edge to your outdoor spaces with our flower pots outdoor collection. The neutral color palette and matte finish of these metal flower pots complement natural textures and colors, making them a harmonious addition to any patio, balcony, or garden setting.
JHY DESIGN – A Synonym for Quality and Aesthetics
At JHY DESIGN, we pride ourselves on creating products that are as sturdy as they are stylish. Our modern flower pot collection reflects our commitment to quality and aesthetic appeal. With these planters, you don't just get a flower pot; you get a durable, beautiful home for your plants that will last through the seasons.
Key Features
Set of 2 flower pots for a cohesive look.
Crafted from durable iron with a matte finish.
Tripod stand design for stability and modern appeal.
Suitable for both indoor and outdoor use.
Large size to accommodate a variety of plant species.
Neutral color to complement any decor style.
Easy to assemble with minimal tools required.
Product Specifications
Material: Iron
Pot Height: 40 cm (16 inches)
Stand Height: 10 cm (3.5 inches)
Total Height: 50 cm (19.5 inches)
Top Diameter: 25 cm (10 inches)
Base Diameter: 21.5 cm (8.5 inches)
Color: Beige/Light Taupe
Finish: Matte
Perfect For
Urban balconies
Modern living rooms
Contemporary office spaces
Chic patios and gardens
JHY DESIGN's Modern Iron Tripod Planters represent a commitment to enhancing any space with a touch of elegance. They are not just flower pots; they are a connection between nature and modern design. Whether used as indoor greenery accents or as part of your outdoor landscape, these planters embody JHY DESIGN's dedication to quality and aesthetics. Their durability and versatility ensure a lasting sense of harmony and beauty in any environment. Choosing JHY DESIGN's planters is not just a choice; it's a statement of a lifestyle where natural beauty is presented in the most elegant way.
At JHY DESIGN, we understand that a well-designed flower pot can define the ambiance of a space. This modern iron tripod flower pot seamlessly combines practicality and aesthetics, making it a perfect addition to your decor, whether you're showcasing lush greenery or displaying it as a minimalist art piece. It's not just a flower pot; it's a testament to the art of living. Let JHY DESIGN lead you on a journey of home aesthetics and plant care, creating a space that is both fashionable and vibrant.
Regular price

Sale price

$34.99
Choosing a selection results in a full page refresh.
Your cart
Recommendations