By

JHY DESIGN
18.5" H Table Ethanol Fireplace Black Metal Fire Pit
Regular price
Sale price
$109.99
Unit price
per
Couldn't load pickup availability
𝐄𝐱𝐩𝐞𝐜𝐭𝐞𝐝 𝐝𝐞𝐥𝐢𝐯𝐞𝐫𝐲: 𝟓-𝟕 𝐝𝐚𝐲𝐬 𝐟𝐫𝐨𝐦 𝐨𝐫𝐝𝐞𝐫 𝐜𝐨𝐧𝐟𝐢𝐫𝐦𝐚𝐭𝐢𝐨𝐧 𝐝𝐚𝐭𝐞
🚚 𝙁𝙧𝙚𝙚 𝙨𝙝𝙞𝙥𝙥𝙞𝙣𝙜 𝙤𝙣 𝙤𝙧𝙙𝙚𝙧𝙨 𝙤𝙫𝙚𝙧 59𝙐𝙎𝘿
---
Availability:
30 in stock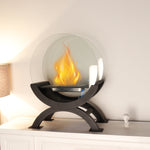 Regular price
Sale price
$109.99
Black
Round Table Fireplace Black Bio Decorative Ethanole Fireplace For Indoor and Patio
Material: Metal, stainless steel &Tempered glass
Product Size:38*21*47 cm
Color: Black sand color metal, silver stainless steel, clear tempered glass
Metal Structure: Strong and durable
CLASSICAL AND DECENT DECORATIVE
Crafted from metal, stainless steel, and clear glass, along with its captivating dancing flame, this adds a sumptuous touch to your home.
In modern homes, attention to detail and quality choices are crucial in creating a cozy and unique atmosphere. This decoration is composed of exquisite metal and stainless steel elements, which not only ensure durability but also exude a sense of modernity. At the same time, the use of transparent glass adds a sense of transparency, allowing you to clearly appreciate the beautiful details inside.
But the true charm of this bio ethanol fireplace lies in its unique design, including the mesmerizing dancing flame. The flame seems to come to life, gently swaying and emitting a warm glow, as if it were a small fireplace spectacle. This visual effect not only adds a touch of mystery to your home but also creates a serene and cozy atmosphere indoors.
Whether placed on a living room shelf, dining table, or bedside table in the bedroom, this decoration can become the focal point of your home decor. Moreover, it can also serve as a unique gift to surprise your family and friends and bring a special touch to their homes.
In summary, this decoration, made from metal, stainless steel, and clear glass, with its luxurious appearance and captivating dancing flame, adds a special charm and warmth to your home environment. Whether used to embellish your living space or as a gift for others, it is an excellent choice for home decor, bringing more delightful moments to life.
A SIMPLE AND ELEGANT APPEARANCE FIRE PIT
With no ash or smoke, you can place it virtually anywhere, making it perfect for a variety of settings, including your patio, living room, dining room, and beyond.
The absence of ash or smoke is a game-changer when it comes to versatility. Imagine being able to bring the cozy ambiance of a dancing flame into your outdoor patio, where traditional fire pits might be impractical. This decorative piece can transform your outdoor space into an inviting haven for gatherings, adding a touch of sophistication and warmth to your alfresco dining experiences.
Inside your home, whether in the living room or dining room, this freestanding fireplace becomes a stunning focal point. Its clean and flameless design means you can enjoy the enchanting visual effect without worrying about the mess or health concerns associated with traditional fireplaces. It's a hassle-free way to create a cozy and romantic atmosphere for intimate dinners or gatherings with friends and family.
Furthermore, the freedom to place it virtually anywhere means you can experiment with different settings and arrangements, allowing you to reinvent your space's ambiance whenever you like. It can serve as a centerpiece on your coffee table, a stylish addition to your mantle, or even a charming decoration in your bedroom for a soothing, flameless nightlight.
In summary, the absence of ash or smoke in this versatile decoration opens up endless possibilities for where you can enjoy its captivating beauty. Whether indoors or outdoors, on your patio, in your living room, or in your dining room, it adds a touch of elegance and warmth to any setting, making it a truly adaptable and enchanting addition to your home.
-20%

Regular price

$34.99

-21%

Sale price

$27.99
Choosing a selection results in a full page refresh.