By

JHY DESIGN
10.5" Tall Battery Powered Metal Table Lamp(Set of 2)
Regular price
Sale price
$34.99
Unit price
per
Couldn't load pickup availability
Availability:
20 in stock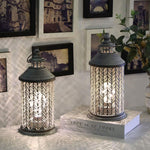 Regular price
Sale price
$34.99
Illuminate Your Space with 10.5" Metal Shell Lamps (Set of 2)
In today's dynamic environment, where flexibility and convenience take center stage, JHY DESIGN's 10.5" Metal Shell Lamps (Set of 2) shine brightly. Crafted with an exquisite old grey brush white color, these lamps serve as an ideal solution to light up spaces without the common fuss of cables and outlets.
Features of the JHY DESIGN 10.5" Metal Shell Lamps:
Cordless Freedom
Unveiling the unparalleled cordless design, the JHY DESIGN 10.5" Metal Shell modern Lamps empower you to set them wherever you deem fit. From creating a serene aura on your terrace to a gentle gleam on your nightstand or even introducing an elegant vibe in your dining area, these lamps' relocation knows no bounds.
Durable Metal Structure
Made from a robust and lasting metal structure, these lamps promise longevity, ensuring that their radiance never dims. The old grey brush white shade adds a touch of vintage charm, making them a timeless addition to any decor.
Set of Two
Every pack comes with a set of two JHY DESIGN 10.5" Metal Shell lamp set, broadening their utility for diverse environments. They can work in tandem to produce a unified luminous effect or shine individually across different spaces, granting you a plethora of lighting choices.
Exceptional Portability
Their compact 5'' x 5'' x 10.5'' size combined with a lightweight framework ensures these battery-operated lamps are easily transportable. Their adaptability is a testament to their versatility – be it illuminating a room or accompanying you during outdoor escapades like camping or picnics.
Benefits of Using These Cordless Lamps:
Versatility in Home Decor
With the JHY DESIGN 10.5" Metal Shell Lamps, homeowners gain the freedom to innovate with their interior arrangements. The absence of limiting cords allows for uninhibited movement and placements.
Safety First
While traditional wired lamps could be a tripping hazard, these cordless variants eradicate such concerns. They're especially beneficial for spots with scarce electric socket provisions.
Outdoor Excellence
These lamps aren't just confined to the indoors. They're perfectly suited for outdoor environs, be it gardens, patios, or decks. Their robust design ensures resilience against varying outdoor conditions.
Emergency Preparedness

An indispensable tool during power outages or unforeseen situations, these
living room lamps
 stand ready to dispel darkness when most needed.
Applications of JHY DESIGN 10.5" Metal Shell Lamps:
Bedroom Ambiance: Perfect as bedside lamps for those late-night reads.

Outdoor Assemblies: Brighten up your outdoor events, whether a BBQ, an intimate supper, or a garden soirée.

Study Sessions: Elevate concentration levels by setting them in your workspace.

Eateries: For businesses, these lamps can bring an added flair to both indoor and outdoor dining spaces.
JHY DESIGN's 10.5" Metal Shell Lamps (Set of 2) seamlessly blend easy portability with trusty illumination across diverse settings – be it cozy home corners, vibrant outdoor events, or sudden blackouts. Revel in the freedom of cordless illumination.
Regular price

Sale price

$34.99
Choosing a selection results in a full page refresh.
Your cart
Recommendations