By

JHY DESIGN
12'' High Stainless Steel Decorative Lantern (Trapezoid)
Regular price
Sale price
$31.99
Unit price
per
Couldn't load pickup availability
𝐄𝐱𝐩𝐞𝐜𝐭𝐞𝐝 𝐝𝐞𝐥𝐢𝐯𝐞𝐫𝐲: 𝟓-𝟕 𝐝𝐚𝐲𝐬 𝐟𝐫𝐨𝐦 𝐨𝐫𝐝𝐞𝐫 𝐜𝐨𝐧𝐟𝐢𝐫𝐦𝐚𝐭𝐢𝐨𝐧 𝐝𝐚𝐭𝐞
🚚 𝙁𝙧𝙚𝙚 𝙨𝙝𝙞𝙥𝙥𝙞𝙣𝙜 𝙤𝙣 𝙤𝙧𝙙𝙚𝙧𝙨 𝙤𝙫𝙚𝙧 59𝙐𝙎𝘿
---
Availability:
118 in stock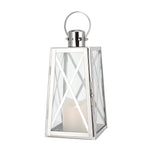 Regular price
Sale price
$31.99
Illuminate Your Space with 12" Stainless Steel Decorative Lanterns from JHY DESIGN
In an era where every decor detail matters and function meets style, lighting plays a pivotal role. This is where the brilliance of JHY DESIGN's 12"" Stainless Steel Decorative Lantern comes to the forefront. Beyond being a decor piece, this trapezoidal lantern shines as a beacon of versatility and utility, defining spaces with its enchanting glow.
Features of the JHY DESIGN 12" Stainless Steel Decorative Lantern
Elegant Stainless Steel Finish
Crafted meticulously, the JHY DESIGN 12" Decorative  
Lantern
boasts a sleek stainless steel structure. This not only provides longevity but also lends a contemporary flair with its radiant silver shine, making it a focal point wherever it's displayed.
Surrounding its radiant glow is a shield of tempered glass. This not only accentuates its design but also ensures the protection of the inner light or candle, maintaining a steady and mesmerizing luminance.
The unique trapezoidal design sets this lantern apart. It effortlessly transforms from a simple decorative accessory to the centerpiece of any arrangement, be it minimalist, festive, or grand.
For Indoors and the Great Outdoors
Meticulously designed, this
outdoor lantern
feels at home both indoors and outdoors. Be it illuminating a cozy dining setup or shining brightly in an outdoor gathering, its versatility is unmatched.
Benefits of Using the JHY DESIGN Stainless Steel Decorative Lantern:
With the JHY DESIGN 12"" Stainless Steel Lantern, you aren't just adding a decor piece; you're infusing the space with adaptable aesthetics. Whether modern or traditional, it complements every style.
The incorporation of tempered glass and a stable base ensures that safety is prioritized, especially when real candles come into play.
A Decor Essential for Every Occasion
From tranquil evenings in your living space to lively outdoor events, the JHY DESIGN lantern effortlessly transitions, casting its charm.
This outdoor
hanging lantern
, which seamlessly merges beauty with functionality, emerges as an ideal gifting option, be it for birthdays, anniversaries, or housewarmings.
Applications of JHY DESIGN 12"" Stainless Steel Decorative Lantern
Elevate Your Living Space: Positioned alone or paired with other decor elements, it's a game-changer.
Nighttime Revelries: As the sun sets, these lanterns keep the festive vibes alive.
Charming Tabletops: Transform your dining experience with these as mesmerizing centerpieces.
Events, Big or Small: From intimate weddings to grand celebrations, these lanterns are the decor heroes.
Statement Gifts: Offering a combination of design and utility, they're everyone's wish-list topper.
The JHY DESIGN 12"" Stainless Steel Lantern is not just another decor accessory. It's a statement, a utility, and a piece of art. It invites warmth, casts a spell with its glow, and redefines spaces. Dive into a world of elegance, utility, and timeless charm with this magnificent creation.
-20%

Regular price

$34.99

-21%

Sale price

$27.99
Choosing a selection results in a full page refresh.