Regular price
Sale price
$43.99
Unit price
per
Couldn't load pickup availability
𝐄𝐱𝐩𝐞𝐜𝐭𝐞𝐝 𝐝𝐞𝐥𝐢𝐯𝐞𝐫𝐲: 𝟓-𝟕 𝐝𝐚𝐲𝐬 𝐟𝐫𝐨𝐦 𝐨𝐫𝐝𝐞𝐫 𝐜𝐨𝐧𝐟𝐢𝐫𝐦𝐚𝐭𝐢𝐨𝐧 𝐝𝐚𝐭𝐞
🚚 𝙁𝙧𝙚𝙚 𝙨𝙝𝙞𝙥𝙥𝙞𝙣𝙜 𝙤𝙣 𝙤𝙧𝙙𝙚𝙧𝙨 𝙤𝙫𝙚𝙧 59𝙐𝙎𝘿
---
Availability:
103 in stock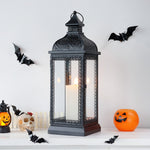 Regular price
Sale price
$43.99
Rediscover the Charm of Classic Elegance with JHY DESIGN's Rustic Metal Candle Lantern
In an era driven by modern aesthetics, there remains an evergreen charm associated with rustic elegance. Catering to this universal appeal, JHY DESIGN introduces the Rustic-Style Metal Candle Lantern - a piece that seamlessly merges old-world charm with contemporary craftsmanship.
Essential Features of JHY DESIGN's Rustic Metal Candle Lantern
Drawing inspiration from the bygone era, the lantern boasts a rustic design, making it an instant classic. Yet, its versatility ensures that it complements both traditional and modern decor effortlessly.
Durable Metal Craftsmanship
Fashioned from robust metal, this
outdoor candle lantern
promises durability. The black finish further accentuates its rustic charm, ensuring it stands out in any setting.
Flanked with tempered glass, it not only enhances its aesthetics but also ensures safety, especially when housing a lit candle.
Perfect for Every Occasion
Be it Christmas, a cozy evening in the living room, an outdoor party in the garden, or a celebratory event on the patio, this camping lantern the mood just right.
Hanging & Tabletop Dual Design
Whether you wish to hang it or place it on a tabletop, its design supports both, offering you the flexibility to decorate as you deem fit.
Why Choose JHY DESIGN's Rustic Metal Candle Lantern
Beyond its functional use as a candle holder, the lantern doubles as a decorative masterpiece, making a statement wherever it's placed.
The combination of robust metal and tempered glass ensures that the
wall lantern
is not just stylish but also safe for use, especially around children and pets.
Given its universal appeal, it makes for a perfect gift, be it a housewarming, anniversary, or a festive occasion.
Optimal Usage Ideas for JHY DESIGN's Rustic Metal Candle Lantern
Place it in your living room, and watch it instantly elevate the space's aesthetics.
Hang it in your garden, yard, or patio during events or parties, and let its soft glow create a magical atmosphere.
During festivals like Christmas, it can play a pivotal role in setting up a festive and cozy environment.
JHY DESIGN's Rustic Metal Candle Lantern isn't just another decor piece. It's a journey back in time, reminding us of the ageless beauty of rustic elegance. It's an invitation to create memories, to celebrate occasions, and to add a touch of vintage charm to every space it graces.
-20%

Regular price

$34.99

-21%

Sale price

$27.99
Choosing a selection results in a full page refresh.