By

JHY DESIGN
11'' High Walk Beside Us Remembrance Lantern With Automatic Timer LED Candle
Regular price
Sale price
$36.99
Unit price
per
Couldn't load pickup availability
Availability:
244 in stock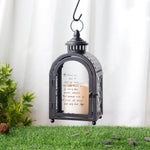 Regular price
Sale price
$36.99
Honoring Memories with JHY DESIGN's Memorial Lantern
In times of sorrow, JHY DESIGN offers a beacon of hope and remembrance with their Walk Beside Us Memorial Lantern. Standing at 11" high, this lantern doesn't just hold a candle; it encapsulates cherished memories, reverberating the presence of those dearly missed.
Features of JHY DESIGN's 'Walk Beside Us' Memorial Lantern
Emblazoned with the touching words Walk Beside Us, this
outdoor  lanterns
serves as a poignant reminder of the everlasting bond we share with our departed loved ones.
Automatic Timer & LED Candle
The lantern comes equipped with an automatic timer and an LED candle, ensuring a consistent, worry-free glow that lasts, mirroring the eternal light our loved ones shine upon our lives.
Crafted with an intricate pattern of love, every detail of this lantern echoes the depth of emotions and the profound connection we hold with those who have moved on.
Bereavement Sympathy Gift
With its deep significance and unmatched beauty, this
 lanterns
stands as an ideal bereavement sympathy gift, resonating comfort, and solidarity.
Advantages of Choosing JHY DESIGN's Memorial Lantern
The lantern serves as a perpetual token of remembrance, celebrating the lives of those who have graced our journey with their presence.
Safety and Serenity Combined
The LED candle ensures a calm, flickering glow without the concern of an open flame, offering both safety and serenity.
Its elegant black finish ensures that the lantern can be seamlessly integrated into any decor, be it at a memorial service or within the sanctum of one's home.
Applications of JHY DESIGN's 'Walk Beside Us' Memorial Lantern
Memorial Services: Place the hanging lantern as a centerpiece, radiating the essence of the departed.
Home Sanctuary: Let it be a reminder in your home, celebrating memories every day.
Anniversary Moments: Mark the days of remembrance with its gentle glow.
Special Corners: Dedicate spaces in your abode to those you miss, with this lantern illuminating their memories.
JHY DESIGN's Walk Beside Us Memorial Lantern is more than a decorative piece. It's a bridge to yesteryears, a silent companion in moments of reflection, and a tribute to the indomitable spirit of love and memory. With this lantern, JHY DESIGN ensures that while some depart, their essence remains forever illuminating our lives."
Regular price

Sale price

$34.99
Choosing a selection results in a full page refresh.
Your cart
Recommendations