By

JHY DESIGN
12''H Memorial Lantern Indoor & Outdoor Use(Matte Black)
Regular price
Sale price
$29.99
Unit price
per
Couldn't load pickup availability
𝐄𝐱𝐩𝐞𝐜𝐭𝐞𝐝 𝐝𝐞𝐥𝐢𝐯𝐞𝐫𝐲: 𝟓-𝟕 𝐝𝐚𝐲𝐬 𝐟𝐫𝐨𝐦 𝐨𝐫𝐝𝐞𝐫 𝐜𝐨𝐧𝐟𝐢𝐫𝐦𝐚𝐭𝐢𝐨𝐧 𝐝𝐚𝐭𝐞
🚚 𝙁𝙧𝙚𝙚 𝙨𝙝𝙞𝙥𝙥𝙞𝙣𝙜 𝙤𝙣 𝙤𝙧𝙙𝙚𝙧𝙨 𝙤𝙫𝙚𝙧 59𝙐𝙎𝘿
---
Availability:
177 in stock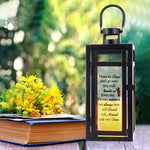 Regular price
Sale price
$29.99
Cherish Memories with JHY DESIGN's Memorial Lantern
In the heart of every cherished memory lies an emotion that's often hard to express. Understanding this deep sentiment, JHY DESIGN proudly presents the 12H Memorial Lantern - a symbol of remembrance, a beacon of love, and a testament to timeless bonds.
Highlighting Features of JHY DESIGN's 12H Memorial Lantern
Profoundly Touching Engraved Poem
At the very essence of this outdoor lantern is a beautifully engraved remembrance poem, speaking volumes about the cherished memories and the undying bond shared with loved ones who've passed away. Each word is chosen with care, echoing the heart's true sentiments.
Superior Stainless Steel Construct
With its impeccable design, the lantern boasts of a premium stainless steel build. This not only lends it a sophisticated appeal but also ensures that it stands the test of time, making it a lasting tribute to your cherished memories.

Indoor and Outdoor Elegance
Whether you wish to place it indoors, making it the focal point of your living space, or outdoors, illuminating a cherished garden nook, its versatile design ensures it complements both settings seamlessly.

Timeless Matte Black Finish
The lantern sports a matte black finish, which not only adds to its elegance but also ensures that it remains timeless, much like the memories it represents.

Given its deep emotional resonance and aesthetic brilliance, the lantern emerges as the perfect bereavement or sympathy gift. It serves as a beacon of solace and comfort during times of grief and remembrance.

Why JHY DESIGN's Memorial Lantern Stands Out
Every aspect of this lantern, from its design to its finish, is crafted to ensure that it stands as a poignant tribute to your loved ones, keeping their memories alive in every flicker of its flame.

When lit, the lantern creates a serene and calming ambience, offering solace to the grieving heart and serving as a gentle reminder of the love and memories shared.

Beyond its emotional depth, the outdoor hanging lantern also doubles up as a stunning decor piece, ensuring it finds pride of place in homes, memorial services, and other spaces of remembrance.
How To Best Use JHY DESIGN's Memorial Lantern
Funeral and Memorial Services
It serves as a guiding light during somber occasions, echoing the sentiments of those present.

Dedicated Home Memorial Spaces
Place it in a special corner at home, ensuring you have a space to remember and honor the departed at all times.

Whether it's a garden corner or a patio, this lantern illuminates spaces with its gentle light, making them perfect for moments of reflection and remembrance.

The 12H Memorial Lantern from JHY DESIGN, you're not just investing in a product; you're embracing a symbol of love, remembrance, and eternal bonds. It serves as a beautiful bridge between the past and the present, ensuring that memories continue to shine bright, illuminating the path ahead.
-20%

Regular price

$34.99

-21%

Sale price

$27.99
Choosing a selection results in a full page refresh.