Regular price
Sale price
$24.99
Unit price
per
Couldn't load pickup availability
Availability:
12 in stock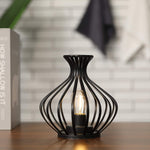 Regular price
Sale price
$24.99
Introduce Contemporary Flair with 7.5" Tall LED Wireless Lamp:Modern Nordic Style

Experience the sophistication and modernity of JHY DESIGN's 7.5" Tall LED Wireless Lamp, a quintessential piece reflecting the Nordic design philosophy. This sleek and modern lamp, not bound by cords, provides an elegant lighting solution suitable for home bedrooms, garden parties, weddings, and various other indoor and outdoor settings.
Features of JHY DESIGN 7.5" Tall LED Wireless Lamp
Modern Nordic Style

Incorporating clean lines and a minimalist design, this lamp embodies the Nordic aesthetic, adding a contemporary and stylish touch to any environment, be it your home, bedroom, or outdoor space.
Cordless & Battery-Powered

The small lamp's cordless design, powered by batteries, offers unrestricted placement possibilities. It liberates you from the constraints of cords and outlets, allowing for innovative decorating solutions and versatile usage.

LED Nightlight: Compact & Efficient

Equipped with energy-efficient LED bulbs, this compact lamp provides ample illumination, serving as a practical and eco-friendly nightlight that ensures longevity and brightness.
Decorative Bedside Companion

This modern lamp, with its sleek design and warm light, is a decorative and functional bedside companion, elevating the ambiance of bedrooms with its elegant presence.


Benefits of This Modern Nordic Wireless Lamp
Decorative Flexibility
The cordless, sleek design of the JHY DESIGN 7.5" lamp allows for seamless integration into various decor styles, offering flexibility and creative freedom in decorating any space.
User-Convenience & Safety
Eliminating cords ensures a safer, hazard-free environment and user-convenience, particularly in spaces with limited or no access to electrical outlets, offering a modern, hassle-free lighting option.
Multifunctional Elegance

The lamp's modern Nordic style makes it a versatile piece, capable of illuminating and adding a refined touch to a variety of occasions and settings, both indoors and outdoors.
Ambiance Enhancer
Its sleek design and warm illumination make this lamp an excellent choice for creating a cozy and sophisticated atmosphere in different spaces, enriching the overall ambiance.
Applications of JHY DESIGN 7.5" Tall LED Wireless Lamp
Home & Bedroom Décor: Its contemporary design and soft illumination enhance the home and bedroom ambiance, adding a stylish touch to the interiors.

Outdoor Events: It serves as an elegant lighting solution for garden parties and outdoor gatherings, adding warmth and sophistication.

Special Celebrations: Ideal for weddings and other special occasions, its sleek design and warm light create a charming and intimate atmosphere.

Dining Establishments: The lamp's modern aesthetic can complement restaurant and café environments, contributing to a pleasant and intimate dining experience.
The JHY DESIGN 7.5" Tall LED Wireless
Beside Table Lamp
, with its minimalist Nordic style and cordless design, is a sophisticated and practical lighting choice. It's an ideal solution for those looking to combine modern elegance with functionality, suitable for enhancing the atmosphere in various indoor and outdoor settings. Whether it's creating a serene bedroom environment, hosting an outdoor event, or enriching everyday spaces, this lamp promises to deliver style and elegance.
Regular price

Sale price

$29.99
Choosing a selection results in a full page refresh.
Your cart
Recommendations