Regular price
Sale price
$24.99
Unit price
per
Couldn't load pickup availability
Availability:
28 in stock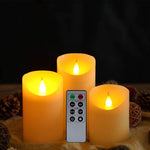 Regular price
Sale price
$24.99
JHY DESIGN's Wax Trio: Flameless Candles with a Pivoted Flame-Shaped Tip
Bathing in Luminescence: JHY DESIGN's Flameless Innovations
Venturing into the heart of creative luminance, JHY DESIGN introduces its set of 3D Effect LED Candles with a unique pivoted flame-shaped tip. These aren't mere illuminators; they encapsulate art, innovation, and ambiance.
Diving into the Distinctive Charm of Pivoted Flame-Shaped LED Candles
Enrobed in authentic wax, each candle from this set emulates the warmth of real candlelight. The distinctive pivoted flame-shaped tip adds a touch of realism, making the candles' 3D flickers dance in a manner reminiscent of true flames.
JHY DESIGN's Flameless Wonders: Attributes that Dazzle
3D Luminosity:
Enhanced by the pivoted flame-shaped tip, the 3D effect of these led candles offers an immersive lighting experience.
Intelligent Interaction:
An 8-key remote control provides effortless interaction, from adjusting brightness to setting timers, ensuring the candles cater to every mood and occasion.
Versatile Vistas:
Be it festive Christmas nights, elegant weddings, or cozy home settings, these candles seamlessly adapt, creating captivating atmospheres.
The Aesthetic Alchemy of JHY DESIGN's Flame-Tipped Candles
As these candles radiate their soft glow, they weave an aura of calm and charm, turning spaces into sanctuaries of serenity.
Luminous Chronicles: Narratives from Candle Enthusiasts
"The pivoted flame-tip of JHY DESIGN's candles is a game-changer. They bring a realistic touch to my evening relaxation routine." - Estelle R.
"From their genuine wax exterior to the intuitive remote, these candles are a blend of tradition and tech. A must-have!" - Jerome F.
Illuminated Insights: Shedding Light on the Flame-Tipped Flameless Wonders
How does the pivoted flame-shaped tip enhance the experience?

This unique design element mimics the gentle sway of real flames, adding depth and dynamism to the candle's glow.

Do the candles retain their aesthetic appeal over time?

Absolutely! Crafted from high-quality materials, these candles are designed to remain enchanting for years to come.
Embark on a journey of light, art, and innovation with JHY DESIGN's pivoted flame-shaped tip candles. Here, beauty doesn't just illuminate; it captivates.
Regular price

Sale price

$34.99
Choosing a selection results in a full page refresh.
Your cart
Recommendations