Regular price
Sale price
$35.99
Unit price
per
Couldn't load pickup availability
𝐄𝐱𝐩𝐞𝐜𝐭𝐞𝐝 𝐝𝐞𝐥𝐢𝐯𝐞𝐫𝐲: 𝟓-𝟕 𝐝𝐚𝐲𝐬 𝐟𝐫𝐨𝐦 𝐨𝐫𝐝𝐞𝐫 𝐜𝐨𝐧𝐟𝐢𝐫𝐦𝐚𝐭𝐢𝐨𝐧 𝐝𝐚𝐭𝐞
🚚 𝙁𝙧𝙚𝙚 𝙨𝙝𝙞𝙥𝙥𝙞𝙣𝙜 𝙤𝙣 𝙤𝙧𝙙𝙚𝙧𝙨 𝙤𝙫𝙚𝙧 59𝙐𝙎𝘿
---
Availability:
30 in stock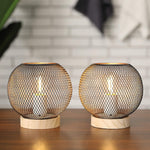 Regular price
Sale price
$35.99
Light up Your Space with 7.8" Tall Metal Mesh Battery-Powered Table Lamps (Set of 2): With Timer & Wooden Base
In a time when adaptability and convenience are vital, JHY DESIGN's set of 7.8" Tall Metal Mesh Battery-Powered Beside Table Lamps stand out. These cordless lamps, coupled with timers and a stylish wooden base, deliver an impeccable solution for illuminating spaces, ridding you of the constraints of wires and sockets.

Features of the JHY DESIGN 7.8" Battery-Powered Table Lamps

Cordless & Time-Efficient
These lamps exhibit a cordless design and come with a 6-hour timer, offering freedom and energy efficiency. Whether it's your balcony, bedroom, or a garden party, these lamps can be strategically placed to light up your environments as per your needs.
Set of Two

The package includes two JHY DESIGN 7.8" Tall Metal Mesh Battery-Powered Lamps, making it a multifunctional lighting solution. Deploy them separately or together to orchestrate a harmonious lighting arrangement, enhancing your living spaces.
Elegant Metal Mesh Design with Wooden Base

The elegant metal mesh design complemented by the wooden base adds a rustic charm to these lamps, making them a stylish addition to any indoor or outdoor décor.
Versatile Usage
These lamp set are versatile in their applications and can be used to lighten up various settings, from balconies and bedrooms to gardens and indoor parties, establishing a warm and inviting ambiance.
Benefits of These Cordless Lamps

Decorative Flexibility

These battery-operated lamps from JHY DESIGN provide the opportunity to refine your décor arrangements, without the limitations of cords and plugs, enhancing the aesthetic appeal of your surroundings.
Safety & Portability
Without cords, these
dining room lamps
eliminate potential tripping hazards and allow hassle-free relocation, serving as a secure and portable lighting option in diverse environments.
Optimal for Various Occasions

With their timers and elegant design, these lamps are optimal for a wide range of occasions, such as indoor/outdoor gatherings, intimate dinners, or just as a decorative light piece in your balcony or bedroom.
Handy During Emergencies

These lamps come in handy as reliable lighting sources during power outages or in places devoid of electrical access, ensuring you are never left in the dark.
Applications of JHY DESIGN 7.8" Battery-Powered Table Lamps

Balcony & Bedroom Lighting: Use these lamps to add a cozy and stylish touch to your balconies and bedrooms.

Garden Parties & Indoor Gatherings: Illuminate your gatherings and parties with the warm light emitted by these lamps.

Table & Home Décor: Deploy these as decorative elements to elevate the aesthetics of your living spaces.

Restaurants & Cafés: Incorporate these lamps to construct a serene and charming atmosphere in your dining areas.
JHY DESIGN's 7.8" Tall Metal Mesh Battery-Powered
Modern Lamps
, coming in a set of two with a wooden base, are an amalgamation of elegance, functionality, and versatility. They offer a seamless and stylish solution to lighting needs in varied scenarios, indoors and outdoors. With their cordless convenience and timer feature, these lamps are poised to light up your world, whether it's a festive gathering, a quiet dinner, or simply a relaxing evening on the balcony or in the bedroom.
-20%

Regular price

$34.99

-21%

Sale price

$27.99
Choosing a selection results in a full page refresh.