Regular price
Sale price
$19.99
Unit price
per
Couldn't load pickup availability
𝐄𝐱𝐩𝐞𝐜𝐭𝐞𝐝 𝐝𝐞𝐥𝐢𝐯𝐞𝐫𝐲: 𝟓-𝟕 𝐝𝐚𝐲𝐬 𝐟𝐫𝐨𝐦 𝐨𝐫𝐝𝐞𝐫 𝐜𝐨𝐧𝐟𝐢𝐫𝐦𝐚𝐭𝐢𝐨𝐧 𝐝𝐚𝐭𝐞
🚚 𝙁𝙧𝙚𝙚 𝙨𝙝𝙞𝙥𝙥𝙞𝙣𝙜 𝙤𝙣 𝙤𝙧𝙙𝙚𝙧𝙨 𝙤𝙫𝙚𝙧 59𝙐𝙎𝘿
---
Availability:
Out of stock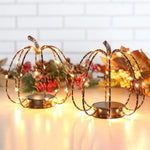 Regular price
Sale price
$19.99
Gold
Illuminate Your Environments with the 6.5" Tall Pumpkin LED Light Set: Cordless and Enchanting


JHY DESIGN presents the Set of 2 Pumpkin LED Lights, a stunning pair of lamps that infuse charm and a whimsical touch to any setting. These cordless lamp set are adorned with fairy lights, creating a mesmerizing effect, ideal for elevating the atmosphere of your indoor and outdoor spaces, making every occasion unforgettable.
Features of the JHY DESIGN Pumpkin LED Lights
Whimsical Pumpkin Design
These small lamps boast a delightful pumpkin design, intertwined with fairy lights, creating a captivating play of light and shadow, suitable for any festive environment.

Cordless and Battery-Powered
Experience the liberty of placing these livng room lamps anywhere, indoors or outdoors, without the restrictions of cords or the necessity for power outlets, thanks to their battery-operated nature.

Set of Two
The package includes two enchanting pumpkin LED lights, allowing you to either harmonize them in one setting or scatter them across different spaces for a cohesive lighting ambiance.

Versatile and Decorative
The Pumpkin LED Lights serve as enchanting decorative elements, enhancing the aesthetic of any space with their mesmerizing glow, be it a living room, garden, or party venue.

Benefits of the Pumpkin LED Lights
Atmosphere Enhancer
These table lamps, with their fairy lights and pumpkin design, instantly elevate the mood of any space, making it more festive and inviting.


Safe and Convenient
Eliminating cords ensures a hassle-free experience and reduces the risk of tripping, making these lamps a safe and convenient lighting option.

Flexible Placement
Their cordless design and whimsical appeal make them an ideal choice for various environments, whether you are looking to adorn your indoor space or add a magical touch to an outdoor event.


Eco-Friendly LED Technology
The inclusion of LED lights guarantees energy efficiency and longevity, reducing the need for frequent bulb replacements and energy consumption.


Applications of JHY DESIGN Pumpkin LED Lights
Festive Decor: These lamps are perfect for adding a festive and enchanting touch to celebrations and gatherings.
Indoor Atmosphere: Create a magical and cozy atmosphere in living rooms, bedrooms, or dining areas.
Outdoor Enchantment: Beautify gardens, patios, or balconies with their whimsical light.
Event Lighting: The Pumpkin LED Lights are an excellent choice for events, adding a charming and festive glow to the surroundings.

Conclusion

JHY DESIGN's Set of 2 Pumpkin LED Lights, with their enchanting pumpkin design and fairy lights, are perfect for adding a magical touch to any setting. These cordless and battery-operated modern lamps are not only versatile and decorative but also offer the convenience and safety of being cord-free. Whether you are looking to enhance your indoor decor or illuminate an outdoor gathering, these lamps are poised to bring charm and a festive ambiance to every moment.
-20%

Regular price

$34.99

-21%

Sale price

$27.99
Choosing a selection results in a full page refresh.