Regular price
Sale price
$22.99
Unit price
per
Couldn't load pickup availability
Availability:
Out of stock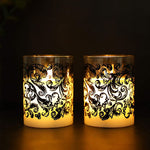 Regular price
Sale price
$22.99
JHY DESIGN's Baroque Swirl Glass Wax Candles: A Blend of Timelessness and Modern Elegance
Indulge in the Luminous Artistry with JHY DESIGN's Candle Range
Marrying the grandeur of the past with contemporary design, JHY DESIGN introduces its Baroque Swirl Glass Wax Candles. More than just a source of light, they are an embodiment of artistic craftsmanship, designed to captivate and inspire.
Diving Deep into the Elegance of Our Baroque Swirl Candle Design
Each candle, exquisitely standing at 4 inches tall, is a manifestation of detailed artistry. Crafted from real wax and encased in beautifully designed glass with a baroque swirl, these candles exude a regal charm. Their flame, though electric, flickers with a realism that mirrors genuine Led candle , bringing both warmth and nostalgia to any setting.
Celebrating the Features of JHY DESIGN's Flameless Candle Duo
Classic Meets Contemporary: The intricate baroque swirl design on the glass pays tribute to classical aesthetics while the flameless functionality nods to modern innovation.

Perfect Pairing: This set includes two candles, allowing you to create symmetric displays or scatter them individually to sprinkle charm throughout your space.

Timed Brilliance: With an in-built 6-hour timer, these candles promise both beauty and convenience, making them ideal for events like spa sessions, weddings, parties, and intimate Valentine's Day celebrations.

Lose Yourself in the Mesmerizing Ambiance of JHY DESIGN's Candle Delights
Bask in the gentle glow of these candles, and let their soothing light transport you to an era of grand ballrooms and lavish feasts, all while enjoying the safety and convenience of modern technology.
A Luminary Reflection: Candle Aficionados Illuminate Their Thoughts

"JHY DESIGN's Baroque Swirl Led candles are an art piece. Their intricate design combined with the lifelike flicker adds a touch of luxury to my living space." - Evelyn H.

"The timer function is brilliant! Set it once, and every evening my room transforms into a haven of calm and elegance." - Mark D.
Delving into the Details: Answers to Your Candle Queries
Is the 6-hour timer function reliable for prolonged use?
Absolutely! Designed with precision, the timer ensures consistent performance, adding to the Led pillar candles' convenience quotient.
Can they accentuate outdoor settings?
While their primary allure lies indoors, under the right conditions, they can be a gleaming addition to outdoor events as well.
Step into a world where classic artistry meets contemporary flair with J
HY DESIGN
's Baroque Swirl Glass Wax Candles. They aren't just candles; they're a statement, a mood, an experience waiting to be unraveled.
Regular price

Sale price

$34.99
Choosing a selection results in a full page refresh.
Your cart
Recommendations