Regular price
Sale price
$26.99
Unit price
per
Couldn't load pickup availability
Availability:
50 in stock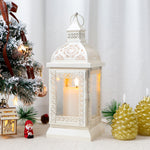 Regular price
Sale price
$26.99
JHY DESIGN's Rustic Metal Decorative Candle Lantern: A Blend of Elegance and Rustic Charm
JHY DESIGN, recognized for its commitment to premium quality and innovative decorative solutions, brings forward another piece that is a culmination of elegance, rustic charm, and functionality: the Rustic Metal Decorative Candle Lantern. Serving a broad spectrum of decorative needs, JHY DESIGN's array of products includes distinguished outdoor lantern, electronic candle lights, battery lamps, and various other aesthetic pieces. With every product, we strive to uphold our reputation for design excellence and customer satisfaction, enabling you to invest in items that guarantee enduring elegance and reliability.

The Rustic White Elegance: Outdoor Lanterns Perfection
JHY DESIGN's Rustic Metal Decorative Candle Lantern is a beacon of rustic elegance and refined functionality, creating a serene and enchanting atmosphere in any setting. These camping lanterns are meticulously crafted to act as the centerpiece in diverse scenarios, illuminating intimate garden gatherings or adding a romantic flare to outdoor wedding venues. Discover the harmonious blend of rustic charm and contemporary design with these lanterns and experience the transformative power of illumination.

Multifaceted Application: A Touch of Vintage Elegance

Garden Oasis

Strategically place these outdoor lanterns throughout the garden to cast a warm and inviting glow, accentuating the natural beauty and creating picturesque landscapes for evening enjoyment.
The refined rustic white finish complements the tranquility of garden spaces, establishing them as essential components for outdoor relaxation and events.
Enchanting Wedding Decor

Serving as alluring centerpieces, these lanterns radiate a romantic luminance across tables and walkways, guiding guests with their soft, welcoming light.
The balanced integration of tempered glass and white rustic metal infuses a vintage elegance into wedding settings, resonating with timeless charm.
Patio and Porch Enhancement

Elevate your patio or porch ambiance by integrating JHY DESIGN's hanging lanterns, fostering a cozy environment for evening gatherings.
The resilient metal structure with tempered glass ensures lasting durability, presenting them as trustworthy lighting options for various outdoor spaces.
Indoor Decorative Elegance

While tailored predominantly for outdoor usage, the versatility of these lanterns allows them to seamlessly adorn indoor spaces, placed on shelves or tables to enrich interior aesthetics.
The sophisticated rustic design harmonizes with diverse interior themes, enhancing spaces with a touch of antiquated elegance.
Product Specification and Features
The Rustic Metal Decorative Candle Lantern by JHY DESIGN is not merely a lantern; it is a harmonious blend of rustic allure and modern elegance, crafted meticulously with durable metal and tempered glass. Featuring a pristine rustic white finish, this lantern not only captivates but also guarantees longevity and resilience, standing as a testament to JHY DESIGN's commitment to quality and style.

JHY DESIGN: Lighting Your World with Rustic Elegance
JHY DESIGN stands as a symbol of commitment to quality, elegance, and enduring beauty. Our Rustic Metal Decorative Candle Lantern, along with our diverse range of christmas lanterns, encapsulates our dedication to providing products that resonate with style and functionality. Select JHY DESIGN and let us illuminate your world with rustic elegance and sophisticated charm.
Regular price

Sale price

$34.99
Choosing a selection results in a full page refresh.
Your cart
Recommendations