Regular price
Sale price
$52.99
Unit price
per
Couldn't load pickup availability
Availability:
20 in stock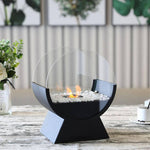 Regular price
Sale price
$52.99
Unveiling the Round Glass Tabletop Fireplace: A Hearth for Modern Living Spaces
Fireplace Sophistication Meets Compact Versatility

Our Round Glass Tabletop Fireplace redefines how you experience fireside moments in the modern age. Crafted with precision and artistry, this sleek and contemporary fireplace adds a touch of sophistication to any room. Its compact 13.5-inch height ensures it fits seamlessly into your space without overwhelming it, making it a versatile choice for both large living areas and cozy nooks.

Clean Burning Bioethanol: A Sustainable Fireplace Solution

At JHY DESIGN, we understand the importance of eco-conscious living. That's why we've designed our Round Glass Tabletop Fireplace to burn bioethanol, a renewable and clean-burning fuel. Experience the warmth and beauty of a real flame without the hassle of traditional wood-burning fireplaces. You can enjoy the dancing flames and radiant heat without worrying about harmful emissions or messy ashes.
Fireplace
 

Feature A Ventless Design: No Chimney, No Fuss

Gone are the days of complicated installations and costly chimney maintenance. Our Round Glass Tabletop Fireplace is ventless, meaning you can place it wherever you desire without the need for a chimney or extensive renovations. It's a hassle-free way to bring the cozy charm of a fireplace into your home, whether you're in a house, apartment, or even an office.
The Round Glass Tabletop Fireplace: Where Style Meets Comfort

Unique tabletop fireplace shape enhances your decoration style

With its sleek round design, tempered glass construction, and contemporary stainless steel accents, this fireplace is not just a source of warmth but also a statement piece of decor. It instantly becomes the focal point of any room, adding a touch of elegance that complements various interior styles, from modern to minimalist.

JHY DESIGN's tabletop
 

fireplace is safe and User-Friendly


Safety is paramount, especially when it comes to fireplaces. Our Round Glass Tabletop Fireplace is equipped with safety features, including a built-in extinguishing system and a protective screen, ensuring you can enjoy the ambiance worry-free. Lighting and extinguishing the flame is a breeze, making it user-friendly for all ages.

Portable Comfort with Style and Durability Fireplace Decor
Decorative fireplace Material: Metal and Tempered Glass 

The Round Glass Tabletop Fireplace boasts a robust construction, combining sleek metal elements with clear tempered glass panels. This fusion of materials not only enhances its visual appeal but also ensures the fireplace's longevity. The use of tempered glass offers added safety, as it is designed to withstand high temperatures without compromising on clarity.

Decorative fireplace Product Size: Compact and Thoughtfully Designed

Measuring 12.5 inches in length, 7.5 inches in width, and 9.6 inches in height, this fireplace is ingeniously designed to fit seamlessly into your living space. Its compact size makes it perfect for a variety of settings, whether you have limited space in your apartment or want to add a touch of warmth to a cozy corner.

Decorative fireplace Color: Elegance in Black and Glass

The Round Glass Tabletop Fireplace features a striking combination of black color metal and clear tempered glass. This color scheme not only adds a touch of elegance to your decor but also allows the dancing flames to be showcased beautifully. The contrast between the black metal and the transparent glass creates a visually stunning effect, making this fireplace a true focal point in any room.

Decorative fireplace Metal Structure: Strength and Durability

We understand that durability is paramount in a well-crafted fireplace. That's why the Round Glass Tabletop Fireplace is engineered with a strong and durable metal structure. This ensures that your fireplace will stand the test of time, providing you with warmth and ambiance for years to come.
Portable Tabletop Fireplace SAFETY GUIDELINES:
130ml ethanol fills the tabletop fireplace, providing 1 hour of charming light.
Never smoke while refilling the pot.
Keep an accessible fire extinguisher nearby for added safety.
Use approved ethanol; avoid other combustibles like car fuel.
Don't cook or heat with the fireplace.
Don't move it while lit or leave it unattended.
Keep the white fiberglass for ethanol absorption.
Portable Tabletop Fireplace INSTALLATION:

Place 4ft from flammables (drapes, fabrics).

Remove packaging materials (cardboard, plastic, film).

Suitable for indoor/outdoor use on a stable surface.
Portable Tabletop Fireplace MAINTENANCE:

The burner's color may change with heat, but regular maintenance preserves it.
Clean with a damp cloth.
Regular cleaning required; avoid water and dishwashers. Wipe glass with a warm, damp cloth.
Regular price

Sale price

$29.99
Choosing a selection results in a full page refresh.
Your cart
Recommendations