Regular price
Sale price
$99.99
Unit price
per
Couldn't load pickup availability
𝐄𝐱𝐩𝐞𝐜𝐭𝐞𝐝 𝐝𝐞𝐥𝐢𝐯𝐞𝐫𝐲: 𝟓-𝟕 𝐝𝐚𝐲𝐬 𝐟𝐫𝐨𝐦 𝐨𝐫𝐝𝐞𝐫 𝐜𝐨𝐧𝐟𝐢𝐫𝐦𝐚𝐭𝐢𝐨𝐧 𝐝𝐚𝐭𝐞
🚚 𝙁𝙧𝙚𝙚 𝙨𝙝𝙞𝙥𝙥𝙞𝙣𝙜 𝙤𝙣 𝙤𝙧𝙙𝙚𝙧𝙨 𝙤𝙫𝙚𝙧 59𝙐𝙎𝘿
---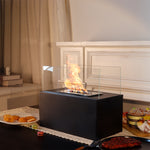 Regular price
Sale price
$99.99
Black
A New Era of Fireplaces: JHY DESIGN's Square Glass Tabletop Fireplace

Welcome the pinnacle of contemporary design into your space with our Sleek Black Square Desktop Fireplace. An embodiment of modern minimalism, this fireplace offers both aesthetics and functionality in one captivating package.
Standing at a harmonious height of 25.5cm, with a width of 31cm and depth of 17cm, this masterpiece is tailored to perfection, ensuring it commands attention without overpowering your space. Its jet-black matte finish effortlessly exudes sophistication, making it a must-have for those with an eye for understated elegance.
Crafted meticulously with precision, its geometric design is a testament to modern artistry. The transparent glass casing offers an unobstructed view of the gentle yet vivacious flames, allowing you to immerse in their hypnotic dance, which not only provides warmth but also elevates the ambiance of your room.
The fireplace's robust construction, defined by its premium materials, promises longevity. It is built to resist the usual wear and tear, ensuring that its beauty and functionality remain uncompromised through the seasons.
Yet, it's more than just a fireplace. It's a statement piece. Whether placed in a living room, bedroom, or office, it promises to be a conversation starter. Its magnetic allure draws in the onlookers, evoking admiration and awe.
Design Innovation: Ventless Fireplace Flexibility
Versatile design ensures it seamlessly blends with a variety of interior decors - from the ultra-modern to the classically traditional. It's not just an addition to your room; it's an upgrade.
Fireplace Style Statement: Modern Aesthetics Meet Comfort
Our freestanding fireplace is a masterpiece of style and comfort. Its unique design, featuring sleek tempered glass and stainless steel, serves as an expressive decor element, adding a touch of elegance to various interior styles.
Safety & User-Friendliness: Sophisticated Fireplace Experience
In addition to its undeniable beauty, the Sleek Black Square Desktop Fireplace is also a symbol of safety. Designed with the user's well-being in mind, it guarantees a safe, clean, and efficient burn, ensuring peace of mind as you enjoy its comforting warmth.
Durability with Elegance: Robust Fireplace Decor
Enjoy a fusion of durability and aesthetic appeal with our fireplace, featuring resilient metal and high-quality tempered glass. It's designed to endure high temperatures while offering a clear, safe view of the mesmerizing flames.
Compact Elegance & Striking Design: Fireplace Dimensions
With its dimensions of 12 x 6.5 x 25.5 inches and the stunning contrast of black metal and clear glass, our indoor fireplace becomes a stunning centerpiece, allowing the dance of the flames to illuminate your spaces.
IMPORTANT SAFETY MEASURES
1. Only use bioethanol as fuel. 130ml ethanol is enough to fill the tabletop fireplace. Approximate burning time is 50-70 minutes depending on room temperature and climate.
2. Always place the burner on a stable surface with free space.
3. Fill the burner with ethanol until the burner is full. Caution:spilled ethanol must be removed with an absorbent tissue and cleaned with water to prevent ignition outside the burner reservoir.
4. Light the ethanol with a stick-lighter. Keep safe distance to the burner. Please allow a couple of minutes to reach optimum temperature and flame height.
5. Let the fuel burn out completely if possible. This prevent ethanol left in the burner.
6. If you want to refill it, never pour fuel into the burning flame. First allow the burner to cool down for at least 15 minutes before refilling.
7. Never refill the burner when the fireplace is operating or still hot.
8. If you wish to extinguish the flame before the fuel has completely burned out. Please use the tool with a round bottom. Put the tool upon the burner and wait until the flame is extinguished.
9. Never leave an open fire unattended at any time!
INSTALLATION
1. Choose a location 4ft away from any flammable objects or materials (drapes, fabrics, etc.)
2. Be sure to remove all packing materials, cardboard, plastic, film, etc.
3. The fireplace is intended to be used indoor or outdoor, placed on a tabletop or stable surface.
MAINTENANCE AND CARE
1. The burner may change colour because of the heat. With regular maintenance, it will keep its colour.
2. Use a wet cloth to clean the surface of the fireplace.
3. Fireplace should be cleaned regularly.
4. Do not clean with water or put in a dishwasher. Wipe down the glass surfaces with a warm, damp cloth.
-20%

Regular price

$34.99

-21%

Sale price

$27.99
Choosing a selection results in a full page refresh.