Regular price
Sale price
$17.99
Unit price
per
Couldn't load pickup availability
Availability:
199 in stock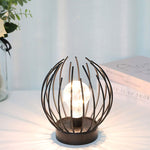 Regular price
Sale price
$17.99
Enhance Your Ambiance with JHY DESIGN 7-Inch Tall Metal Cage Table Lamp
In our modern, bustling environment, the intersection of style and convenience is essential. Meeting this intersection is JHY DESIGN's 7-Inch Tall Metal Cage Beside Table Lamp. This sleek, cordless lamp is a convergence of functionality and elegance, providing a hassle-free way to illuminate any space devoid of tangled cords and inconvenient outlets.
Features of the JHY DESIGN 7-Inch Tall Metal Cage Table Lamp
Cordless Elegance
The defining feature of this JHY DESIGN table lamp is its cordless nature, offering limitless possibilities in positioning it. Whether it's enriching your bedroom ambiance or adding a chic touch to your study, this lamp's adaptability makes it a stylish asset to any room.
Sleek Metal Cage Design

This lamp showcases a sleek metal cage design, blending seamlessly with various decor styles, making it an attractive centerpiece for any gathering or a stylish accent to your home or office.
Exceptional Portability
With its compact and lightweight structure, this lamp is highly portable, allowing easy relocation across different rooms or outdoor settings, serving as a functional decorative piece wherever needed.
Efficient LED Bulb
Equipped with an Edison style LED bulb, the lamp offers long-lasting, energy-efficient illumination, making it an eco-friendly and cost-effective lighting solution.

Benefits of Using JHY DESIGN Battery Operated Lamps

Flexible Interior Design
JHY DESIGN
Cool Desk Lamps
afford homeowners the flexibility to modify and enhance their interior spaces. The cordless feature allows for creative placements and adjustments to suit the mood and style of each room.

Safety and User-Friendly
Eliminating cords mitigates the risk of tripping and expands placement options. This safety and convenience make them especially advantageous in areas with limited power sources.

Multi-Environmental Adaptation
The 7-Inch Tall Metal Cage Table Lamp is versatile, being functional both indoors and outdoors, thanks to its resilient build, broadening its range of utility.
Reliable Emergency Lighting
JHY DESIGN's Battery Operated Lamps are indispensable during power failures or unforeseen situations, providing dependable illumination when it's most needed.

Applications of JHY DESIGN 7-Inch Tall Metal Cage Table Lamp
Modern Office Lighting: Its sleek design fits perfectly in any modern office, providing an aesthetically pleasing and efficient light source.

Stylish Home Décor: Introduce a stylish illumination to your living spaces with this contemporary lamp.

Outdoor Events: Its portability and design make it a great addition to any outdoor event, adding a modern touch to the surroundings.

Elegant Dining Enhancement: Elevate your dining experience with the warm glow and stylish design of this lamp.
JHY DESIGN's 7-Inch Tall Metal Cage
Living Room Lamp
offers a harmonious blend of contemporary design and practicality, ensuring reliable and fashionable lighting for diverse environments. Experience the balance of modern elegance and cordless convenience with this innovative lamp.
Regular price

Sale price

$29.99
Choosing a selection results in a full page refresh.
Your cart
Recommendations