Regular price
Sale price
$24.99
Unit price
per
Couldn't load pickup availability
𝐄𝐱𝐩𝐞𝐜𝐭𝐞𝐝 𝐝𝐞𝐥𝐢𝐯𝐞𝐫𝐲: 𝟓-𝟕 𝐝𝐚𝐲𝐬 𝐟𝐫𝐨𝐦 𝐨𝐫𝐝𝐞𝐫 𝐜𝐨𝐧𝐟𝐢𝐫𝐦𝐚𝐭𝐢𝐨𝐧 𝐝𝐚𝐭𝐞
🚚 𝙁𝙧𝙚𝙚 𝙨𝙝𝙞𝙥𝙥𝙞𝙣𝙜 𝙤𝙣 𝙤𝙧𝙙𝙚𝙧𝙨 𝙤𝙫𝙚𝙧 59𝙐𝙎𝘿
---
Availability:
Low stock: 10 left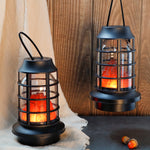 Regular price
Sale price
$24.99
Illuminate Your Space with JHY DESIGN's 8"  Set of 2 Flame Lamp with Timer
In the realm of modern living, where ease and style converge, JHY DESIGN introduces its innovative 8" Flame Lamp with Timer, available in a set of two. This duo combines the allure of traditional flame lamps with the modern convenience of battery operation, ensuring your space is bathed in a warm, inviting glow. Crafted with meticulous attention to detail, these lamps are a testament to both functionality and aesthetic charm.
Features of the JHY DESIGN 8" Flame Lamp with Timer:
Battery Operated Brilliance: Embrace the freedom of cordless lighting with these flame lamps. No more constraints of power outlets or unsightly cords disrupting your décor. Whether it's adding a cozy ambiance to your reading nook or a welcoming glow to your outdoor gatherings, these lamps adapt to your needs effortlessly.

Set of Two: This package includes two elegantly crafted flame lamps, allowing you to harmonize the lighting in multiple areas or create a striking focal point when used together. They are perfect for setting a mood or enhancing the ambiance of any space.

Durable and Stylish Design: Each lamp is made from robust materials, including plastics and glass, ensuring longevity and durability. The black color adds a touch of sophistication, making these lamps suitable for a variety of decor styles.

Built-In Timer for Convenience: The integrated timer function adds to the convenience, allowing you to set the modern lamps to turn off automatically, saving energy and prolonging battery life.

Versatile and Portable: Lightweight and portable, these lamps are ideal for indoor and outdoor use. Their compact size (5"L x 5"W x 8" H) makes them perfect for table tops, shelves, or even outdoor patios and balconies.
Why Opt for Battery Operated Table Lamps?
Unmatched Flexibility: Free yourself from the limitations of fixed lighting. The battery-operated design of these lamps means you can place them anywhere, anytime, without worrying about proximity to power outlets.

Enhanced Safety: Battery-powered lamps minimize the risk of electrical hazards, especially in households with children and pets.

Perfect for Outdoor Use: These flame lamps are not just limited to indoor spaces. They can illuminate your outdoor areas, creating a magical atmosphere for evening gatherings or quiet nights under the stars.

Reliability in Emergencies: In case of power outages, these lamps are a dependable source of light, ensuring you're never left in the dark.

Diverse Applications:
Cozy Bedrooms: Perfect as bedside lamps, they offer a soothing glow for a peaceful night's ambiance.

Elegant Outdoor Settings: Transform your garden or patio into a serene retreat for memorable evenings.

Adventurous Escapades: Light up your camping trips or outdoor adventures with these table lamps.

Focused Workspaces: Ideal for studies or offices, providing a calm, focused environment.

Charming Business Decor: Enhance the ambiance of cafes, restaurants, or any business setting with their elegant glow.
The JHY DESIGN 8" Flame Lamp with Timer set is more than just a lighting solution; it's a versatile, stylish, and safe addition to any space. These battery operated lamps offer convenience, portability, and an enchanting atmosphere wherever they go. Embrace the charm and practicality of these exquisite lamps and transform your spaces with their radiant light.
-20%

Regular price

$34.99

-21%

Sale price

$27.99
Choosing a selection results in a full page refresh.