Regular price
Sale price
$32.99
Unit price
per
Couldn't load pickup availability
𝐄𝐱𝐩𝐞𝐜𝐭𝐞𝐝 𝐝𝐞𝐥𝐢𝐯𝐞𝐫𝐲: 𝟓-𝟕 𝐝𝐚𝐲𝐬 𝐟𝐫𝐨𝐦 𝐨𝐫𝐝𝐞𝐫 𝐜𝐨𝐧𝐟𝐢𝐫𝐦𝐚𝐭𝐢𝐨𝐧 𝐝𝐚𝐭𝐞
🚚 𝙁𝙧𝙚𝙚 𝙨𝙝𝙞𝙥𝙥𝙞𝙣𝙜 𝙤𝙣 𝙤𝙧𝙙𝙚𝙧𝙨 𝙤𝙫𝙚𝙧 59𝙐𝙎𝘿
---
Availability:
20 in stock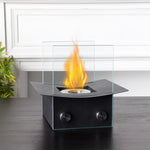 Regular price
Sale price
$32.99
Black
Ignite Warmth with JHY DESIGN's 8" H Portable Tabletop Indoor Fireplace
In the bustling canvas of contemporary living, every home seeks a touch of magic, a sprinkle of charm, and a dash of warmth. Enter the world of JHY DESIGN's modern fireplace, where every flicker tells a story and every flame sings a song.
Modern Fireplace: Reimagining Elegance with JHY DESIGN

JHY DESIGN's 8" H Portable Tabletop Indoor Fireplace, crafted with precision and designed with flair, is more than just a fireplace. It's an embodiment of refined elegance, modern aesthetics, and traditional warmth, seamlessly blending into any space it graces. Its compact stature, with dimensions of 6 x 7 x 8 inches, ensures it can illuminate corners, centerpieces, and even Christmas setups, enhancing the festive Christmas fireplace experience.
JHY DESIGN's Tabletop Fireplace

A Material Symphony: Crafted with exquisite black metal, silver stainless steel, and clear tempered glass, this fireplace speaks volumes with its minimalistic design and robust durability.

Safety, Our Foremost Priority: While its design charms, its safety features ensure peace of mind. From guidelines on ethanol usage to directives on placement, JHY DESIGN prioritizes your well-being.

Bio Ethanol Fireplace: With its clean-burning bio ethanol feature, this fireplace ensures you savor warmth without compromising on health or environmental concerns.

The Christmas Fireplace Delight: Imagine a snowy Christmas evening with stockings hung, carols in the background, and JHY DESIGN's fireplace casting a golden glow, turning moments into memories.

Safety Measures, Because We Care: With directives like no smoking during refilling, usage of approved fuel, and advice against food preparation over the fire, this fireplace not only adds charm but ensures a safe ambiance.
JHY DESIGN's Modern Indoor Fireplace

Transformative Design: Whether you're aiming for the cozy warmth of a traditional setup or the edgy vibe of a modern interior, this fireplace fits effortlessly.
A Festive Companion: Its design and functionality make it a Christmas fireplace favorite, adding to the festive atmosphere.

Safety Personified: With clear guidelines and a user-centric design, JHY DESIGN ensures that while you bask in its warmth, safety is never compromised.

Eco-Friendly Warmth: The bio ethanol fireplace feature promises warmth without environmental concerns, ensuring you enjoy the fireplace experience without any guilt.

Experience the Magic of JHY DESIGN's Portable Tabletop Fireplace with Safety First
The art of interior design is as much about aesthetics as it is about functionality. It's a delicate balance, one that JHY DESIGN's Portable Tabletop Fireplace strikes with finesse. But more than aesthetics and functionality, it emphasizes safety. A warm, flickering flame can be the heart of a home, but it's crucial to ensure it beats safely.
Safety Measures to Enhance Your Experience

Ethanol Measurement for Optimal Use: A mere 130ml of ethanol is sufficient to fuel the tabletop fireplace. This volume not only assures efficient burning but also promises about 1 hour of mesmerizing, charming lights, making every moment radiant.
Smoke-Free Refilling: Safety starts with the basics. Ensure you avoid smoking while refilling the fuel pot. It's a simple measure, but one that's pivotal to safe usage.

Proximity to Safety Tools: Just as a knight never ventures out without his shield, always have an easily accessible fire extinguisher nearby when using open flames. It's always better to be prepared.

Approved Fuel for Assured Safety: Use only approved liquid ethanol for the tabletop fireplace. Venturing into using other combustibles like bio-ethanol car fuel can compromise safety.

Purpose-Specific Use: As tempting as it might be, refrain from using the fireplace to cook food or heat water. Its purpose is ambiance and warmth, not culinary exploits.

Static Enjoyment: The dance of its flames is best enjoyed without motion. Ensure you do not move the fireplace while it's lit.

Attentive Use: Every flame has a story to tell, so never leave the lit fireplace unattended. Let it be a tale of warmth, not caution.

Fiberglass Retention: The white fiberglass has its purpose – to absorb ethanol efficiently. There's no need to remove it, ensuring optimal performance.

Safety Placement: While the fireplace is a beacon of warmth and light, keep it away from flammable objects. Give it its own pedestal of safety.

Avoid Culinary Temptations Over the Flame: Its flames might dance invitingly, but it's essential to remember not to prepare food over the fire.

JHY DESIGN's 8" H Portable Tabletop Indoor Fireplace isn't just a product; it's a promise, a narrative, a memory-maker. It promises warmth, narrates tales of gatherings, and crafts memories that last a lifetime. Be it a Christmas fireplace setting or a modern decor theme, with JHY DESIGN, warmth, charm, and elegance are guaranteed.
-20%

Regular price

$34.99

-21%

Sale price

$27.99
Choosing a selection results in a full page refresh.