Regular price
Sale price
$39.99
Unit price
per
Couldn't load pickup availability
Availability:
20 in stock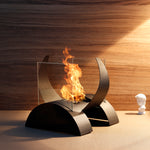 Regular price
Sale price
$39.99
Embrace Modern Elegance with JHY DESIGN's 7.5"H Tabletop Bio Ethanol Fireplace
In our evolving lifestyle, where ambiance meets simplicity, the warmth of a fireplace holds a unique charm. JHY DESIGN proudly presents the 7.5"H Tabletop Bio Ethanol Fireplace, a masterpiece that blends the nostalgia of traditional fireplaces with the contemporary charm of modern fireplace designs.
Material & Durability: At the heart of our fireplace lies an intricate melding of premium metal and tempered glass. This ensures that while the fireplace radiates elegance, it stands strong and endures the test of time.
Dimensional Perfection: Sized at a compact 8" L x 8" W x 7.5" H, it effortlessly fits various settings, be it a cozy living room corner or a grand dining room centerpiece.3.
Aesthetics: A sleek black color palette of the metal, juxtaposed with the crystal clarity of the tempered glass, exudes a minimalist yet striking appeal. This product is a testament to JHY DESIGN's dedication to impeccable fireplace design.
JHY DESIGN Bio Ethanol Fireplace
Cordless Luxury: Bid farewell to traditional installations. This bio ethanol fireplace requires no cords, offering a hassle-free experience.2.
Safety First: The clear tempered glass not only accentuates the aesthetic appeal but also provides a protective barrier, ensuring safety while you enjoy the dancing flames.3.
Sturdy Metal Framework: Constructed with top-notch metal, the structure promises durability and stability. It's not just a product; it's a long-term investment for your home.
Benefits of Choosing Bio Ethanol Fireplaces

Eco-friendly Ambiance: Unlike traditional fireplaces, a bio ethanol fireplace is environmentally friendly. Experience the magic of flames without the guilt of harming our planet.2.
Space Savvy: Given its compact design, it becomes an ideal choice for urban homes where space is a premium.
Design Flexibility: Without the constraints of chimneys and vents, the JHY DESIGN Bio Ethanol Fireplace offers unparalleled design flexibility, making it a favorite among interior designers and architects.
Clean & Efficient: Say goodbye to the mess of ash and soot. This fireplace promises a clean burn, ensuring your home remains spotless.
Diverse Applications for Every Setting
Romantic Evenings: Set the mood for a romantic evening with your loved one, with the soft glow of the fireplace as your backdrop.

Outdoor Gatherings: Elevate your garden parties and outdoor gatherings, adding warmth and sophistication.

Restaurant and Café Decor: Create a memorable dining experience for your patrons, adding an aura of luxury.

Relaxation Nook: After a long day, unwind by the gentle flames, letting the stress melt away.
JHY DESIGN: A Blend of Elegance and Functionality in Modern Heating Solutions
In a world where aesthetics seamlessly merge with functionality, JHY DESIGN emerges as a forerunner in providing innovative heating solutions. Their latest offering, a sleek Ethanol Gel Powered fireplace, is a testament to their commitment to quality, design, and innovation.
Craftsmanship Meets Contemporary Design

Crafted from a blend of premium glass and metal, the fireplace exhibits an undeniably luxurious appeal. The transparent glass stands as a stark contrast to the robust metal, reflecting the brand's attention to design details. Its dimensions of 8"D x 8"W x 7.5"H make it an ideal piece for various spaces, be it expansive living rooms or cozy bedroom corners.
The Ethanol Gel Advantage

Gone are the days when fireplaces were messy affairs. JHY DESIGN's fireplace uses Ethanol Gel as its power source. This not only ensures a cleaner burn but also guarantees ease of use. You can now bid farewell to the hassle of wood logs, ash residues, and overwhelming smokes. Ethanol Gel is an eco-friendly fuel choice, ensuring that while you bask in its warmth, you're also contributing to a healthier environment.
Freestanding: A Versatile Choice

The freestanding installation type further adds to its versatility. Whether you're looking to change your home's décor or simply wish to move it to another spot, this fireplace allows you the flexibility to do so without any fuss. The stand-alone feature is particularly useful for renters or those who prefer an ever-evolving home layout.
JHY DESIGN's Ethanol Gel Powered fireplace is not just a heating device; it is a statement piece. A perfect amalgamation of state-of-the-art technology with chic design, this fireplace is set to revolutionize modern living spaces. Experience warmth like never before, wrapped in the luxurious guise of JHY DESIGN's craftsmanship.
Regular price

Sale price

$34.99
Choosing a selection results in a full page refresh.
Your cart
Recommendations