Regular price
Sale price
$45.99
Unit price
per
Couldn't load pickup availability
Availability:
20 in stock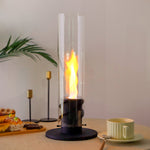 Regular price
Sale price
$45.99
Discover Timeless Elegance with JHY DESIGN's 17''H Clean-Burning Portable Tabletop Fire Pit
Indulge in sophistication as you explore the exquisite craftsmanship of the JHY DESIGN 17''H Clean-Burning Portable Tabletop Fire Pit. Crafted from a harmonious blend of black sand color metal, stainless steel, and clear tempered glass, this fire pit is a testament to timeless elegance in fireplace decor.
17"H Portable Tabletop Fireplace

Material: Metal, stainless steel &Tempered glass
Product Size:7.5''L x 7.5''W x 17"H
Color: Black sand color metal, stainless steel, clear tempered glass
Metal Structure: Strong and durable
Box: A SIMPLE AND ELEGANT APPEARANCE FIRE PIT , with no ash or smoke, you can put it anywhere, perfect for your patio, living room, dinning room etc.
Perfect Dimensions, Lasting Impression: Immerse yourself in the visual allure of this statement piece, perfectly sized at 7.5''L x 7.5''W x 17"H. Beyond its dimensions, the fire pit's sleek design guarantees a lasting impression, making it the focal point of your patio, living room, dining room, or any space that craves a touch of sophistication.
Boxed Elegance:Step into a world of simplicity and elegance with the JHY DESIGN 17''H Clean-Burning Portable Tabletop Fire Pit. Unbox sophistication with its minimalist design, ensuring that it effortlessly integrates into any decor style, offering a clean and refined appearance.
Clean-Burning Brilliance: Experience the luxury of a clean-burning fire pit with no ash or smoke. This distinctive feature allows you the freedom to place it anywhere, transforming your patio, living room, or dining room into a cozy haven adorned with the enchanting and eco-friendly flames of this bio ethanol fireplace.
JHY DESIGN: The Intersection of Innovation and Style in Indoor Fireplaces
Within the JHY DESIGN collection, this fire pit stands as a testament to our commitment to innovation and style in indoor fireplaces. It transcends the realm of mere accessory, becoming a symbol of refined taste and contemporary design that elevates your indoor space.
Versatile Placement:Place it anywhere you desire – the patio, living room, dining room, or even the bedroom. The portable nature of this tabletop fire pit offers you the flexibility to redefine the ambiance of different spaces with ease, allowing you to curate your surroundings with style.
A Stylish Outdoor Companion:Enhance your outdoor experience with the sophistication of the JHY DESIGN fire pit. Whether it's a quiet evening on the patio or a lively gathering, the clean-burning flames add a touch of sophistication to your outdoor decor, creating a stylish companion for your outdoor lifestyle.

Eco-Friendly Warmth:Operate this fire pit with the eco-friendly efficiency of bio ethanol. Embrace a sustainable heating solution that adds warmth to your space without the environmental impact of traditional fuel sources, contributing to a greener and more responsible lifestyle.

Ensuring Safety in Usage: Vital Precautions for Your Tabletop Fireplace
Prioritize safety by using the fireplace in a well-ventilated area. It's strongly advised to avoid using it in rooms smaller than 700 cu. ft. (20m³). For smaller spaces like bathrooms, ensure doors and windows are open for essential ventilation. In rooms below 700 cu. ft., proper ventilation is both required and indispensable for safe operation.
Acknowledge that while the fireplace produces heat, it's not designed to be the main heat source. Understand its limitations and use it as a supplementary element for ambiance rather than relying on it as the primary heating solution.

Emphasize the importance of refraining from smoking while filling the fuel pot. This simple yet critical measure minimizes potential risks associated with open flames and ethanol usage, ensuring a safe environment during operation.

As an added layer of protection, especially with items involving open flames, stress the necessity of keeping an easily accessible fire extinguisher nearby. This additional precaution ensures swift and effective response to any unforeseen circumstances.

Safeguard the integrity of your tabletop fireplace by using only approved liquid ethanol. Discourage the use of any other combustibles, such as bio-ethanol car fuel, to ensure the appliance operates within safety standards and specifications.

Clearly communicate that the fireplace is not intended for cooking food or heating water. Reinforce the specific purpose of the appliance to minimize potential risks associated with alternative uses and maintain a safe operating environment.

Prioritize safety by emphasizing that the fireplace should not be moved while lit. This precautionary measure minimizes the risk of accidents and ensures a stable environment during operation, reducing potential hazards.

Stress the importance of continuous supervision by never leaving the lit fireplace unattended. This ensures a controlled environment, reducing the risk of accidents and promoting responsible usage of the tabletop fireplace.

JHY DESIGN 17''H Clean-Burning Portable Tabletop Fire Pit is more than a source of warmth – it's a design statement. Elevate your space with the perfect fusion of innovation, style, and clean-burning brilliance, making it a signature piece that reflects the refined taste synonymous with JHY DESIGN.
Regular price

Sale price

$34.99
Choosing a selection results in a full page refresh.
Your cart
Recommendations