By

JHY DESIGN
7"H Set of 2 Battery Operated Lamp Unique Cordless Wall Sconce
Regular price
Sale price
$26.99
Unit price
per
Couldn't load pickup availability
𝐄𝐱𝐩𝐞𝐜𝐭𝐞𝐝 𝐝𝐞𝐥𝐢𝐯𝐞𝐫𝐲: 𝟓-𝟕 𝐝𝐚𝐲𝐬 𝐟𝐫𝐨𝐦 𝐨𝐫𝐝𝐞𝐫 𝐜𝐨𝐧𝐟𝐢𝐫𝐦𝐚𝐭𝐢𝐨𝐧 𝐝𝐚𝐭𝐞
🚚 𝙁𝙧𝙚𝙚 𝙨𝙝𝙞𝙥𝙥𝙞𝙣𝙜 𝙤𝙣 𝙤𝙧𝙙𝙚𝙧𝙨 𝙤𝙫𝙚𝙧 59𝙐𝙎𝘿
---
Availability:
Low stock: 10 left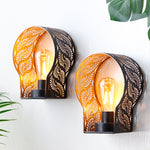 Regular price
Sale price
$26.99
Illuminate Your Space with JHY DESIGN's 7"H Set of 2 Battery Operated Lamp Unique Cordless Wall Sconces
In an age defined by streamlined convenience, the journey to the quintessential lighting should be effortless. Recognizing this ever-evolving demand, JHY DESIGN proudly brings forward its exclusive 7"H Battery Operated Wall Sconces. Available as a Lamps Set, these lighting wonders seamlessly combine sophistication with practicality. They promise to cast an inviting aura in every nook and cranny of your abode, all while freeing you from the constraints of power cords and incessant outlet searches.
Bird 
Cordless Wall Sconce  
Lamps

Material: Metal
Size:

3.5"D x 5.5"W x 7"H

Color: black brush gold
Features of the JHY DESIGN 7"H Battery Operated Wall Sconces
Cordless Freedom with Timed Convenience: The days of being bound by cord locations are firmly in the past. Introducing the JHY DESIGN 6.7" Battery Operated Lamps, which are not just about liberation from cords but also intelligent design with a 6-hour timer feature. Whether you desire to brighten your patio for a tranquil evening, need the gentle radiance for your nightly reads, or aim to elevate a dinner ambiance, these lamps are your steadfast companions. Simply set them, and they'll provide consistent illumination for six hours, making them as efficient as they are elegant. Relocate with ease, and let their glow be your beacon.
Lamps Set of Two: Amplify the brilliance with each package, which boasts two meticulously crafted JHY sconces. Illuminate diverse spaces or combine their luminance for an intensified ambiance. This Lamps Set is tailored to cater to a spectrum of lighting desires and settings.
Exceptional Portability: Merging a streamlined design with a lightweight frame, these sconces emerge as your ultimate lighting confidants. They're ideal for spontaneous room transformations, alfresco adventures, and so much more.
Energy-Efficient LED Ingenuity: Beyond their radiant charm, these Battery Operated Lamps champion environmental consciousness. Integrated with LED bulbs, they guarantee luminance, enduring performance, and notable energy conservation.
JHY DESIGN 7"H Battery Operated Wall Sconces: Versatile, Safe, and Outdoor-Ready
Boundless Versatility: Eschew traditional lighting confines. With JHY DESIGN's 7"H Battery Operated Wall Sconces, reshape and reimagine your spaces, unfurling the wings of creativity.
Safety Assured: Bypass the perils of tangled cords and the task of childproofing outlets. The cordless design signifies minimized risks, championing serenity.
Exterior Excellence: These sconces aren't limited to indoor confines. Augment the allure of garden soirees, patio bashes, or simply bask in their gentle glow under the cosmic canopy.
Readiness for Any Eventuality: Power outages might be unsettling, but equipped with these Battery Operated Lamps, unwavering illumination is assured, coming to the rescue during unforeseen darkness.
JHY DESIGN Lights: From Corridor Charm to Gastronomic Grace, Elevate Every Space with Illuminating Elegance
Corridor Charm: Designed to cast a gentle glow, these lights transform mundane hallways into corridors of elegance. Their soft luminance delicately highlights architectural details, creating an inviting atmosphere filled with depth and allure.
Alfresco Allure: Whether you're hosting garden parties, enjoying a balcony dinner, or engaging in twilight trysts, these lights are the essence of outdoor sophistication. They effortlessly accentuate outdoor settings, making every moment feel enchantingly special.
Artistic Accents: Beyond mere lighting, these are tools to showcase your taste. Illuminate your favorite artworks, treasured photographs, or distinct feature walls. Their glow offers each piece an added dimension, epitomizing refined elegance.
Concentration Catalyst: Beyond mere illumination, these lights are tailored for thinkers. Perfect for your office or study corner, their soft, consistent glow creates an environment where focus thrives, and inspiration flows seamlessly.
Gastronomic Grace: For establishments that value ambiance as much as flavor, these sconces are indispensable. Whether in trendy cafes, upscale eateries, or cozy lounges, they shape an immersive dining atmosphere, amplifying every guest's gastronomic journey.
JHY DESIGN's 7"H Battery Operated Wall Sconces (Lamps Set of 2) stand out as more than mere illuminators; they epitomize style, safety, and sustainable luxury. Dive into a universe where illumination transcends boundaries. Cherish the newfound freedom, indulge in the brilliance, and celebrate unparalleled cordless convenience.
-20%

Regular price

$34.99

-21%

Sale price

$27.99
Choosing a selection results in a full page refresh.