Regular price
Sale price
$22.99
Unit price
per
Couldn't load pickup availability
𝐄𝐱𝐩𝐞𝐜𝐭𝐞𝐝 𝐝𝐞𝐥𝐢𝐯𝐞𝐫𝐲: 𝟓-𝟕 𝐝𝐚𝐲𝐬 𝐟𝐫𝐨𝐦 𝐨𝐫𝐝𝐞𝐫 𝐜𝐨𝐧𝐟𝐢𝐫𝐦𝐚𝐭𝐢𝐨𝐧 𝐝𝐚𝐭𝐞
🚚 𝙁𝙧𝙚𝙚 𝙨𝙝𝙞𝙥𝙥𝙞𝙣𝙜 𝙤𝙣 𝙤𝙧𝙙𝙚𝙧𝙨 𝙤𝙫𝙚𝙧 59𝙐𝙎𝘿
---
Availability:
20 in stock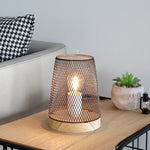 Regular price
Sale price
$22.99
Enhance Your Space with JHY DESIGN's 7" H Metal Mesh Table Lamp LED Cordless Lamp
In an era where convenience reigns supreme, lighting solutions should be no exception. JHY DESIGN proudly presents its 7" H Metal Mesh Table Lamp LED Cordless Lamp, designed to redefine elegance and versatility. This lamp effortlessly infuses warmth and charm into every corner of your space without the constraints of cords or the hassle of finding outlets.
Metal Mesh Table Lamp
Material: Material:Brown Metal, Wooden base
Size: 5.5"L x 5.5"W x 7"H
Two Features: Enjoy the convenience of both a 6-hour timer mode and normal on/off functionality
Color: Brown
Switch Type: Easily control the lamp with the ON/OFF/Timer switch.
JHY DESIGN's 7" H Metal Mesh Table Lamp: Effortless Elegance, Cordless Freedom, Supreme Portability, and Sustainable Brilliance
Convenient 6-Hour Timer Mode: This

battery operated lamp

 is equipped with a 6-hour timer mode. When activated, the lamp will stay illuminated for 6 hours, then automatically turn off for the next 18 hours, before lighting up again at the same time every day. It's the perfect way to effortlessly add a touch of light and elegance to your daily routine.
Modern Elegance with Cordless Freedom: Say goodbye to the limitations of electrical outlets. JHY DESIGN's 7" H Metal Mesh Table Lamp embodies modern flexibility. Whether you're looking to create a tranquil evening on your patio, enjoy a soft glow for evening reading, or enhance your dinner ambiance, this lamp epitomizes modernity and mobility.
Supreme Portability: With its compact form and lightweight structure, this lamp is your ultimate lighting companion. Ideal for on-the-go adjustments, outdoor adventures, or impromptu decor modifications, it effortlessly adapts to your changing needs.
Sustainable Brilliance: Beyond its radiant luminance, this lamp is eco-friendly. Equipped with energy-efficient LED technology, it offers bright, enduring light while conserving energy and the environment.
JHY DESIGN's 7" H Metal Mesh Table Lamp: Modern Style, Safety, and Uninterrupted Illumination
Modern Style: This cool 

desk lamp

seamlessly blends modernity with timeless design, making it a perfect addition to any room. The metal mesh and wooden base exude sophistication, while the warm white LED bulb provides a cozy and inviting atmosphere.
Safety First: Eliminate worries of tangled cords and the need to safeguard outlets. The cordless design ensures a hazard-free environment, granting you peace of mind.
Always Illuminated: Whether you're lighting up an intimate garden soirée, a patio feast, or simply enjoying the soothing glow beneath the night sky, this lamp ensures consistent brightness, even during power outages.
JHY DESIGN's Metal Mesh Table Lamp: Versatile Ambiance for Your Home
Cozy Bedroom Glow:Bedrooms are sanctuaries of relaxation. With JHY DESIGN's lamp, this haven is further enriched. Designed for bedside use, its soft luminescence envelops the room in warmth. The brown metal and wooden base complement interiors, setting the stage for a tranquil night's sleep, making evenings a serene ritual.
Outdoor Elegance:Open-air gatherings have their own magic. Enhance this with the JHY DESIGN lamp. Its ambient light transforms evening teas into intimate affairs and BBQ nights into radiant festivities. Beyond mere illumination, it interacts with the outdoors, creating an atmosphere that resonates with nature's elegance.
Desk Companion:A desk is where ideas flourish. JHY DESIGN's lamp, with its contemporary design, ensures these spaces inspire. Its gentle glow mitigates eye strain for productivity, while its aesthetic reminds of the blend of tradition and modernity. With this lamp, every task feels like a purposeful journey.
Business Ambiance:First impressions in business matter. The JHY DESIGN lamp ensures these impressions are lasting. Whether in a cafe or boutique, its sophisticated design and ambient light elevate the ambiance. It's more than just a lamp; it's an experience enhancer, transforming casual visits into memorable engagements.
JHY DESIGN's 7" H Metal Mesh Table Lamp LED Cordless Lamp is more than just a lighting solution; it's a style statement, a safety companion, and a sustainability champion. Illuminate your world with this modern lamp that meets limitless possibilities. Experience the freedom, embrace the glow, and enjoy unparalleled cordless convenience.
-20%

Regular price

$34.99

-21%

Sale price

$27.99
Choosing a selection results in a full page refresh.